Four more premium WordPress plugin updates added to the bulk and automatic updater
One of the things that sets Watchful apart from other WordPress maintenance tools is our support for Premium WordPress plugin updates. Update support for the following paid plugins/plugin suites is now live:
Updates for GiveWP add-ons
GiveWP is a powerful donation plugin. It's a fantastic way to collect donations and manage your donors all from your own WordPress site.
GiveWP gets even better when you enhance the donation experience with premium add-ons like Recurring Donations and Text-to-Give.
If you're using any of these paid add-ons, you can now update them alongside the free GiveWP plugin right from the Watchful dashboard across all your sites at once (see below).
Updates for Formidable Forms
Formidable Forms is one of the most popular premium forms plugins for WordPress. It is a full-featured form plugin, updated regularly, with a top-notch support team.
Formidable Forms does not have a free version. So if you are a user, you have a license key to allow for updates. These are now supported in Watchful for 1-click updates across all your sites (see below).
Updates for WP Staging PRO
WP Staging is a free plugin that creates a copy of your site in a subfolder on your server. This is often used as a backup strategy.
WP Staging PRO adds a number of features that really enhances the software. Most importantly, changes made to the staged site synchronize to the production site with a single click. Backup schedules, backup retention, and site migration (to name a few) also ship in the premium version.
Updates for the premium version are now supported in Watchful (see below for details).
Updates for Advanced Ads
Advanced Ads is a management tool for Ads on your WordPress website. It is typically used to generate ad revenue. Advanced Ads makes it easy to place ads around your site and control the conditions which govern ad display.
Advanced Ads Pro includes A LOT more features, notably more placement locations and display/visitor conditions. Watchful now supports the Advanced Ads Pro license to allow updates (see below).
Premium plugin updates for WordPress saves you time
Applying premium WordPress plugin updates in bulk or with automatic updates is one of the best ways to save time when performing website maintenance.
As shown below, the Watchful settings area now includes license key fields for GiveWP, Formidable Forms, WP Staging PRO, and Advanced Ads Pro. Once you've entered the license key(s) as shown below, you'll be able to update these premium plugins/add-ons the same as any free plugin.
And if your license key supports additional domains, Watchful can add these for you in real time if/when you try to apply a premium update on a new site.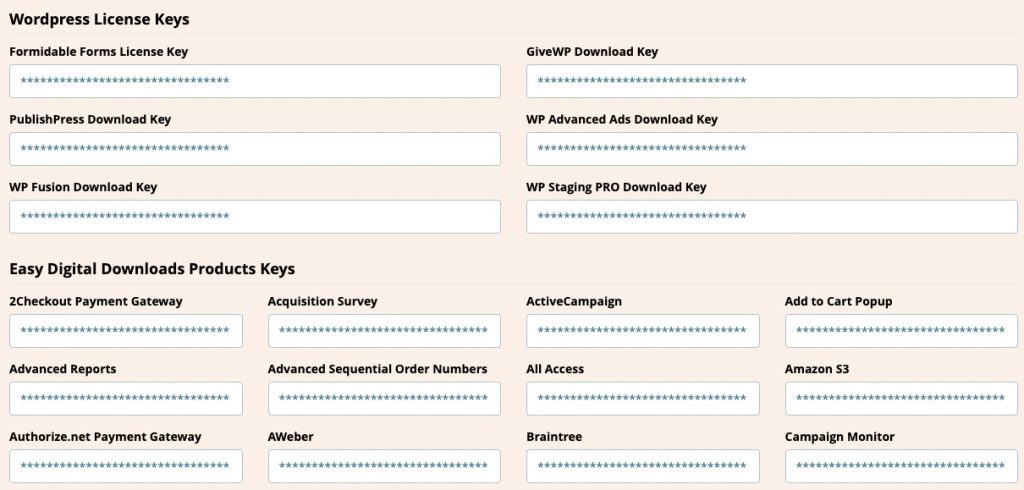 Additionally, these new premium updates work perfectly with the recently-released update fresh feature. This helps keep sites safe by preventing bulk plugin updates on sites with stale backups.
Add your favorite premium plugin updates to this list
Watchful currently supports updates for hundreds of premium plugins including:
GiveWP (all add-ons)
Easy Digital Downloads (all extensions)
Formidable Forms
Advanced Ads
WP Staging Pro
Elegant Marketplace (all plugins)
Meow Apps (all plugins) — coming soon
If you have suggestions for other premium plugins or if you are a plugin developer yourself, please note the plugin name(s) in the comments below. We'll do our best to add support for your suggestions!