Use automatic, scheduled updates to improve work-life balance & reduce downtime
Automatic updates can be great unless they take a site offline after business hours or while you're on vacation. We combine a unique automatic update system with an intuitive update scheduler to make sure that updates only occur when it's convenient for you.
Automatic Updates
Our automatic update system is very flexible, allowing you to enable automatic updates on a per-site and per-software basis.
This allows you to selectively enable automatic updates for just your trusted software titles and most stable sites.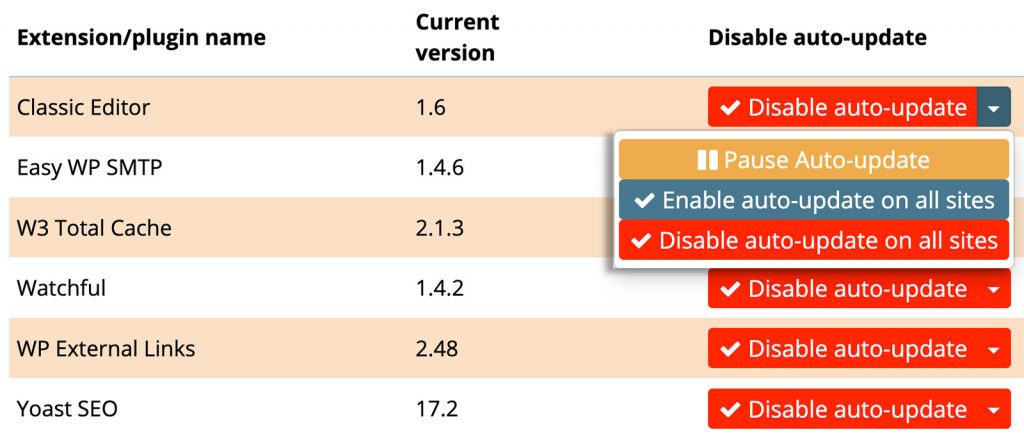 Once you've configured automatic updates, there may be times when you want to disable them. This is common when troubleshooting site issues with different versions of a specific software title.
And as you can see below, you can pause and resume all of the Watchful-powered automatic updates in a single click. Resuming them in bulk is just as easy.
Use scheduled updates to reduce downtime
Most website maintainers strive to deliver 100% uptime to their clients. With a little effort and careful uptime monitoring, many agencies come very, very close to this goal.
But update-related outages are one of the few remaining problems agencies struggle with. Outages that occur outside normal business hours or when agency owners/staff are on vacation commonly have the largest negative impact on delivering 100% uptime and on work-life balance.
To address this problem, Watchful offers an update scheduler. As the name suggests, the scheduler is a set of dates and other rules that dictate the timing of automatic updates.
Common use-cases are weekly update schedules that restrict updates to normal business hours, as well as blocking out time for vacations.
The update scheduler can also tap into our stale backup detection tool. This prevents automatic updates if a recent backup is not available for a site. In turn, reverting a site from a fresh backup prevents the loss of any recent content changes on the site.

Update scheduler showing rules for automatic updates.
Automatic, scheduled updates are a Premium feature.