Automatic cloud backups with stale backup detection
To automate and schedule cloud backups, Watchful works hand-in-hand with popular tools such as All-in-One WP Migration, XCloner, and Akeeba Backup. Choose from daily, weekly or monthly backups. And of course the remote storage location of your choice like Dropbox, Amazon S3 and Google Drive.
With Watchful, you can be confident that your backups are performed exactly when you want. This keeps you prepared for unplanned maintenance or unexpected downtime.
And with a quick glance at the sites dashboard, you can see the status of your backups across your entire portfolio at any time.

Remote backup creator
There are times when your scheduled, automatic backups just aren't enough and you need a fresh copy. Such as when you're about to update a plugin or edit a file in your theme.
With Watchful, you can create a remote cloud backup with ease from your website dashboard. And if you want a fresh backup of all your sites, you can add them to our backup queue in one click, grab a coffee, and start your maintenance when all the backups are complete.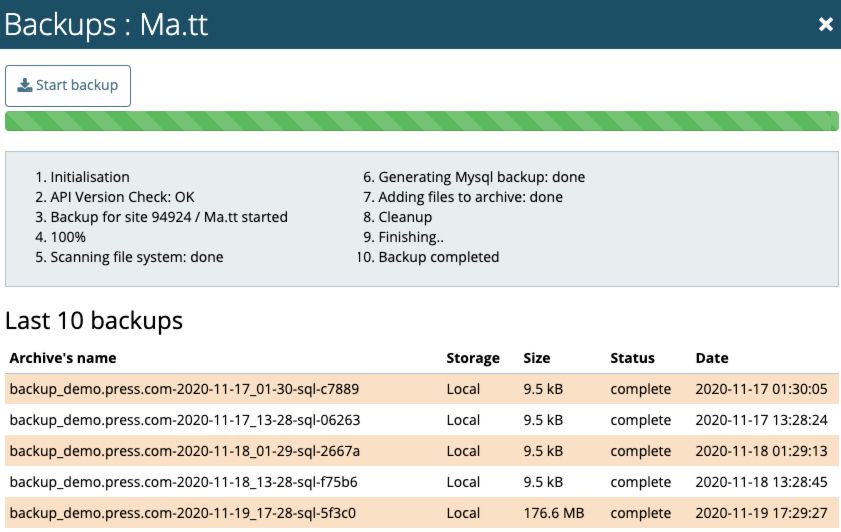 Stale backup monitor
Put an end to the stress of wondering if your backups are running or current. Watchful's stale and failed backup notifications will keep you informed of any problems. When a stale backup is detected, you'll see a notification in your dashboard.
You'll also receive an email notification so you can fix the issue and keep your backups current.

Customize the stale backup threshold
We know that the freshness of a backup is very much dependent upon site activity. Sites with more content updates, new users or new purchases become stale more quickly than less active sites. We've made it easy to customize the stale backup threshold individually for each and every site as dictated by the amount of site activity.
Create your 100% free account today. No commitment. No credit card required.