Bulk updates for your website software
Updating software across a host of websites can be very time consuming. Not surprisingly, performing bulk updates with just a few clicks provides a massive boost in productivity. Watchful facilitates these bulk updates for the software on your website, one of the most important features in website maintenance.
And because updates are so critical to the security of your site, we display the number of pending updates for each site by default on the sites dashboard.

Flexible bulk updates for any workflow
The bulk software updater is very flexible and adapts to whatever update workflow suits you best. For example, you can view the updates for just a single site and then apply the updates one-at-a-time.
Or you can apply all the updates in a single click using the Update All feature shown below.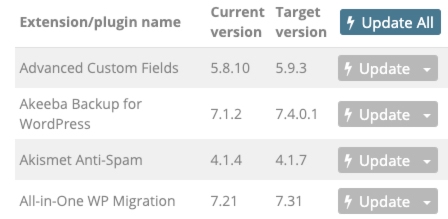 Skip problematic software when performing bulk updates
Watchful also lets you Ignore softwares that may not be updated reliably. This lets you process all of your routine updates with a few clicks, and then circle back for anything that requires a more gentle approach.
Update one software everywhere
Using the filtering tools in the bulk update tool provides more flexibility.
For example, occasionally an urgent security issue arises in a specific software. It's important to update this software immediately, but you may prefer to update the other software titles at another time.
As shown below, you can use the filters in the bulk update tool to only show updates for a single software title. Updating this title across your full portfolio then just takes a single click.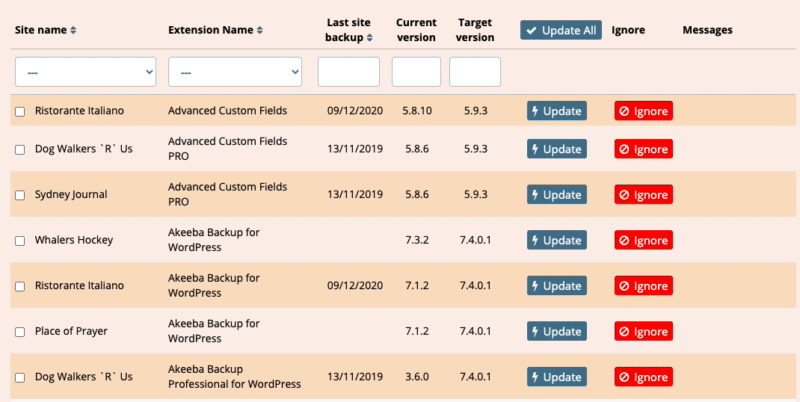 Create your 100% free account today. No commitment. No credit card required.