Watchful wins industry award for top Joomla service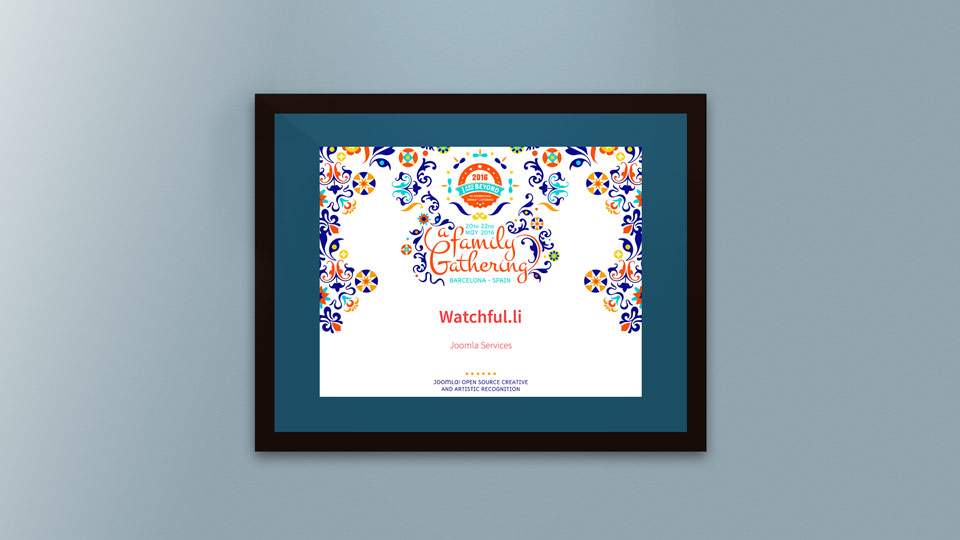 The annual  J and Beyond conference is a highlight on our calendar. It brings together some of best-known Joomla developers, integrators, and contributors. Also, we love meeting our friends and colleagues to share a coffee and a tasty treat.
This past weekend the 2016 edition of J and Beyond took place in Barcelona, Spain.
Each year, J and Beyond recognizes industry leaders by handing out J!OSCAR awards, or Joomla! Open Source Creative and Artistic Recognition awards.
The J!OSCAR process begins with public nominations in a variety of categories related to web site development with Joomla.
Watchful was nominated in the Joomla Services category and made the short list along with OS Training (a website training and support company centered around open source content management systems) and Cloud Access (a hosting company specializing in websites built with Joomla and WordPress).
J and Beyond attendees voted on the short list on Friday, May 20 and selected Watchful as the winner.
"The J!OSCARs are always exciting. Receiving this award is a great honor, as our peers and colleagues voted on it. In other words, the people who know Joomla best," said Victor Drover, CEO and co-founder of Watchful.
In 2013, Watchful won it's first J!OSCAR for Innovation of the Year, an award shared with other monitoring services in the category.
"It's great to see the progress from a new, innovative service to one that is relied on by so many agencies and consultancies to manage their web sites and help grow their business," said CTO Pierre-André Vullioud.