Rollout of new support tools completed
Customer satisfaction has always been a top priority at Watchful. From our launch, we have relied on a mix of public documentation, self-hosted help desk software, internal workflows and personal communication by email, phone or instant message.
While effective, these disparate tools have made it difficult to objectively measure customer satisfaction and was unnecessarily complicated for our clients.
And sometimes it created a single point of failure where a holiday or unexpected absence resulted in delays in resolving issues.
To address these shortcomings, today we completed the rollout of our new support system powered by the excellent SaaS application from Help Scout.
This hosted help desk solution is very flexible and allows us to easily route issues to the appropriate Watchful team member for fast resolution.
Help Scout also has powerful workflows, instant replies, and saved replies. These features allow us to automate tasks and deliver consistent information to our users.
In addition, each and every message sent form Help Scout includes an invitation to rate the support. Ratings and resolution times are carefully tracked by Help Scout and will be closely monitored.
On the user side, we've built a custom form that automatically populates with all the relevant details including web site and subscription information.
We've even written a custom Help Scout app to retrieve links to our payment processor Recurly.
The only input required is a description of the problem, question or issue. And as you can see in this screenshot, all the information needed to provide excellent support is present in a single view for our support team.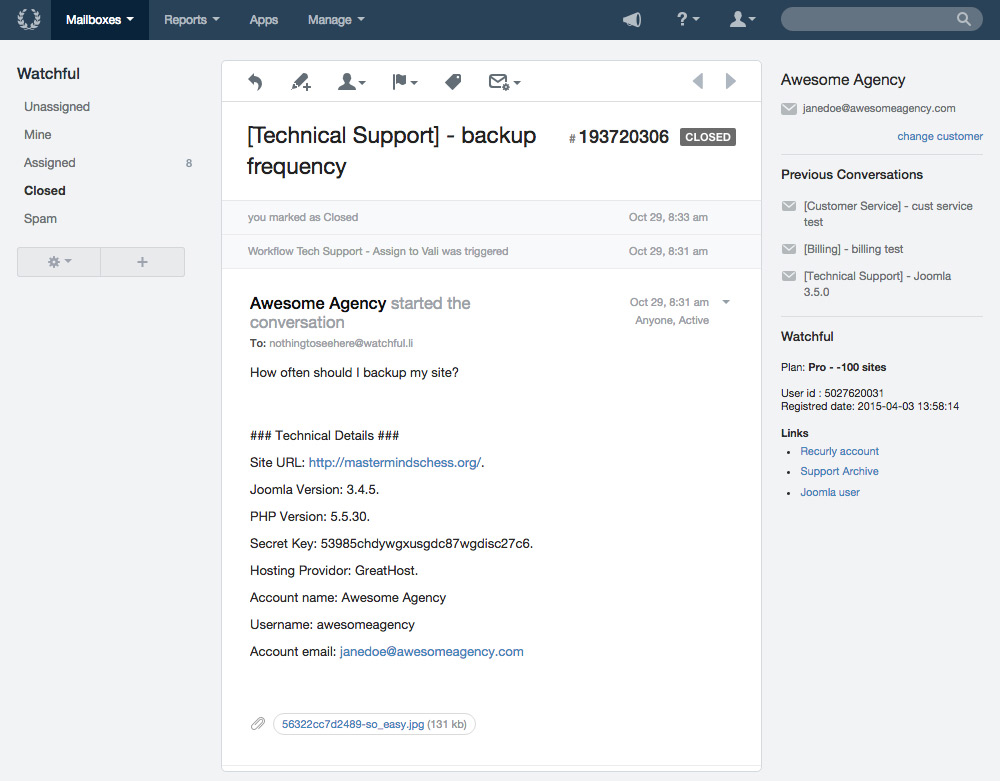 Once the form is submitted, the user only has to monitor their inbox to review the issue status and provide replies as needed. 
In addition to Help Scout, we've updated all our FAQs and Knowledge Base articles and moved them to a new location.
Together, we are confident that these new support tools will reduce resolution times and maximize customer satisfaction ratings.
Existing Watchers can login to their accounts and test the new system by clicking the support link at the top-right of the website or Dashboard.
We look forward to hearing from you soon!