Introducing the most powerful and professional white-label client reports we've ever built.
Today marks a big step in the evolution of client reporting at Watchful as we officially announce the best white-label reports we've ever built with 3 massive changes.
Watchful Premium users can now send reports from their own email accounts. And you can control exactly what site activity is included in the report, and even add custom notes.
Why are white-label reports useful?
Regular, clear, and reliable summaries of website site maintenance tasks are key to building long-term business relationships with your clients and growing your recurring revenue. That's why many digital agencies use automated, scheduled reporting.
White-label reports reinforce your agency's brand and are more desirable than a third party report.
1. Sending white-label reports from your own email account
As noted above, you can now configure the scheduled client reports from Watchful to be sent from any email account. Having reports arrive from your own domain email adds a real touch of professionalism to your reports. It is the ultimate white-label feature.
To get started, head on over to your account Settings and enter the custom SMTP details for your email account.

Once that's complete, edit an existing report profile and select your custom email account as the sender.

Combining your own branded email account with the personalized report emails feature we recently released is sure to wow your clients. And best of all, you'll save a tonne of time by automating the entire report process.
Update: The email schedule got an upgrade recently. Check out the full details here.
2. Fine-grained control of report content
In the past, if you included Site activity logs in your scheduled reports, your clients would receive every log entry for that reporting period. While this is great for transparency, the amount of information was often overwhelming and confusing for clients.
And because of the sheer amount of information, we intentionally capped the logs section of the reports at 3 pages.
That changes today in two important ways. First, we've removed the page limit for log entries so that reports now include all log entries by default.
Second, you can now select exactly what type of website activities are included in your white-label client reports.
For example, software updates are of interest to many clients. Conversely, the number of pending software updates is less interesting. As another example, you may want to include any downtime events in your reports, but not uptime events since the expectation is that a website is always online.
No matter the expectations you have set with your clients, you can now specify exactly which types of logs are included in a report. As shown below, simply select the appropriate log types to customize your reports.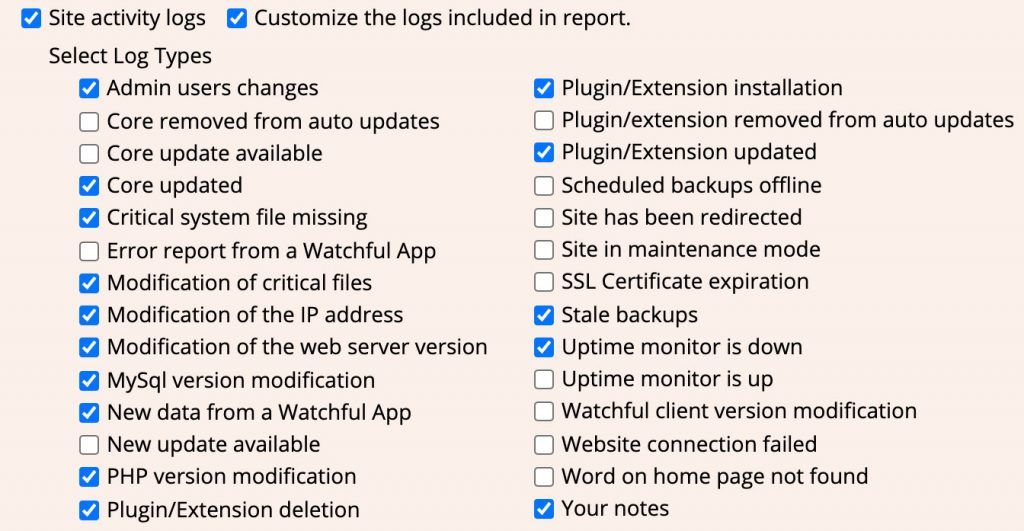 These customizations are available on a site-by-site basis. This allows you to tailor each report as needed.
3. Adding custom entries to your reports
Last, but not least, there is a new feature that will expand the types of information you share with your clients. We've added the ability for you to add custom notes to the logs!
You can use these manual log entries as your own record for custom maintenance you perform, and/or to include these notes in your white-label reports.
To get started, open the drawer for a site in your Dashboard and select the Add Note To Logs link as shown below.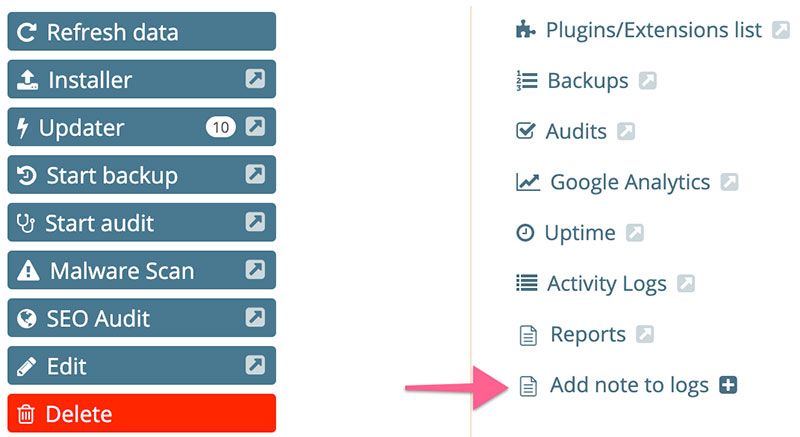 This opens the Create note modal:
Each note added will be assigned the date and time based on when the Save button is clicked. All saved notes will then appear in the Site Logs:

By adding custom notes on a regular basis, you can quickly improve the history of your website maintenance tasks in your client reports. This further enhances the value of the reports for your clients.
Over to you
We'd love to hear in the comments how you are using reports to grow your business. Or if you are not downloading or automatically sending reports to your clients, what's holding you back?