How Inspry grew recurring revenue and streamlined client onboarding.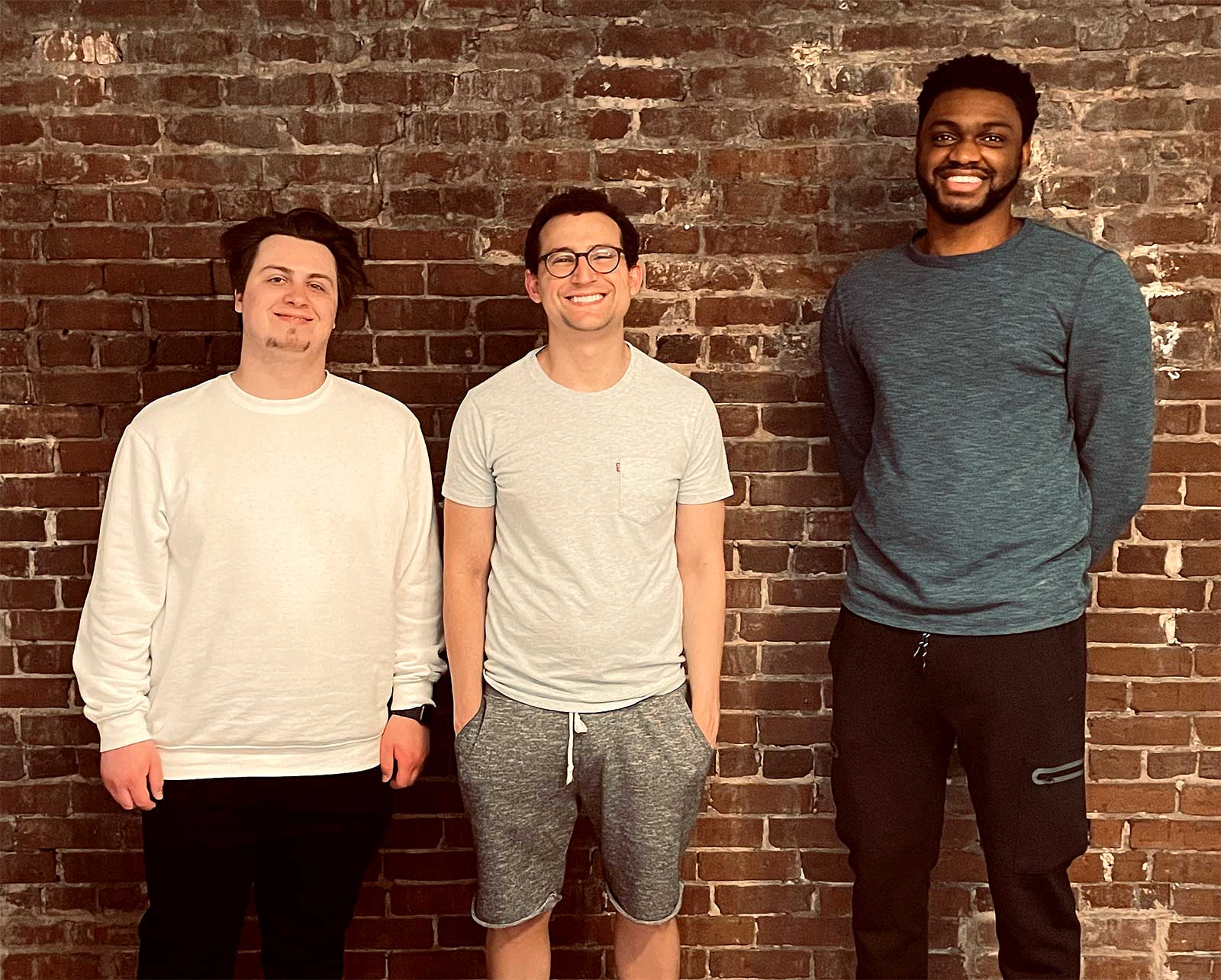 Agency Spotlight

Location:
Atlanta, GA
Company Size:
5-10 people
Year founded:
2011
Site Count:
60
Inspry is a digital consultancy based in Atlanta, Georgia (USA). They opened their doors in 2011 in the wake of the Great Recession with a mission to build tailored, technical web development solutions that help their clients succeed.
Founded by Matt Schwartz following a year of freelancing, the company name is derived from the words 'inspire' and 'spry', both core principles at Inspry.
Like any new business, Inspry followed the ebb and flow of agency work. Initially they focused on designing, developing and hosting websites. This included ongoing maintenance as a reliable source of recurring revenue.
With the economy still struggling, they also began delivering marketing services to make ends meet. But this pivot came at the cost of their true passion: developing great technology solutions.
A 2-part problem
By 2016, Inspry had a "good problem" on their hands. The business was financially successful, in part due to recurring revenue. But splitting their time between development and marketing services made it difficult to focus and didn't scale well.
And while they had been able to sign up a number of clients to their website maintenance plans, servicing the accounts was time-consuming and tedious. All the time spent backing up and updating their clients websites cut into their margins. This also reduced the time available to take on more clients and to deliver solutions that truly moved the needle.
Besides maintenance tasks, client requests were also becoming a significant drain on resources. Onboarding new clients and making changes to contact information and billing details for existing clients ate into their schedule. Regular requests for reports and other marketing data from client websites were also becoming too frequent.
It was clear that things would have to change in order to scale the business. Inspry needed to deliver their services more efficiently and get back to their development roots.
Solution Part 1 — Faster site updates.
The first step Inspry took was to speed up their site maintenance activities. And after doing some research, Matt and his team decided that Watchful had the site maintenance features they needed to be more efficient.
"Things started to turn around for us in 2016 after we discovered Watchful. We used to spend 12-15 hours every time we rolled out basic updates. And that only included the most reliable software we were using like Akeeba Backup and Advanced Module Manager. With Watchful, that dropped to 3 hours or less."

Matt Schwartz (Owner & Chief Strategist), Inspry
This 5-fold improvement is typical when an agency moves to a website maintenance tool like Watchful. And it was a great boost to Inspry's bottom line.
Solution Part 2 — A custom client portal
With extra time on their hands, Inspry's development team now pivoted to the second pain-point: reducing repetitive and administrative tasks such as onboarding clients who had purchased a site maintenance plan and managing their reporting requests.
"No one likes repeating the same tasks over and over. It's tedious and distracting. I knew that automating these kinds of things would not only save time, but also improve morale."

Michael Chatham (Senior Developer), Inspry
Inspry found that they could use the Watchful API to address both issues at once with a custom client portal. Here is the architecture of the solution they created: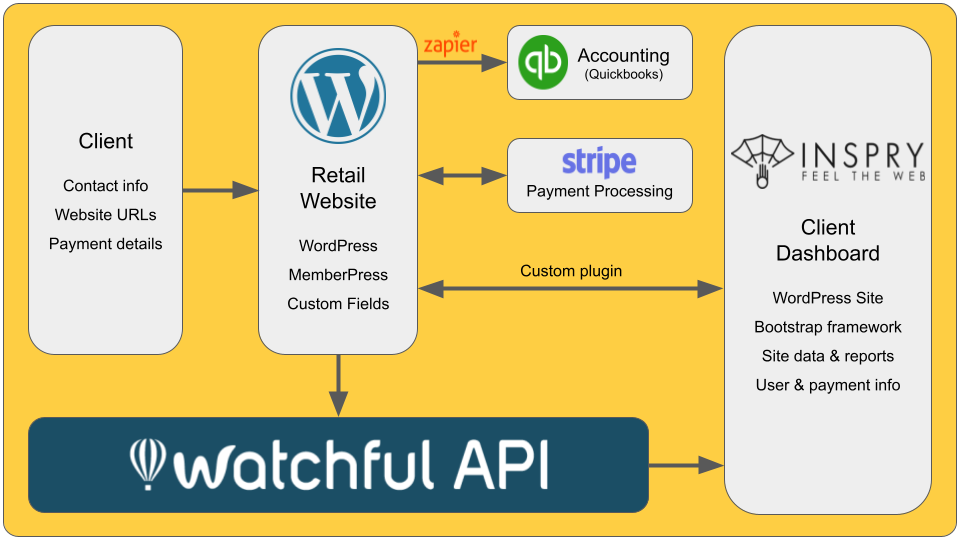 New customer onboarding to build recurring revenue
Inspry was already using WordPress for their website. They decided to use the MemberPress plugin with Stripe integration. This is the tool that would manage signups and recurring billing for their website maintenance plans.
They also used the custom fields in MemberPress to collect site URL(s) from the customer during signup. Once the signup process and payment completes, a custom WordPress plugin sends the website details to Watchful using the Watchful API.
Together, the initial on-boarding process became almost entirely automated and improved recurring revenue. Here is a preview of the maintenance plan signup form: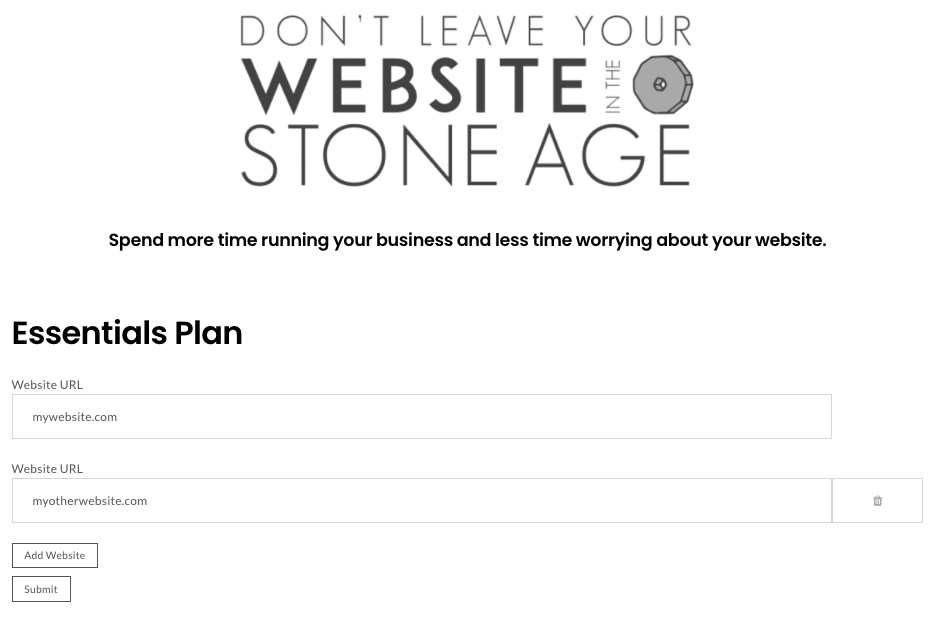 Interactive customer portal
With the customer data in MemberPress, payment details at Stripe, and the website data at Watchful, Inspry had everything they needed to build an interactive portal for their customers.
First, they used bootstrap as the design framework. This was then wrapped in a custom WordPress plugin which registered a shortcode to display the dashboard on a standard WordPress page. Since the dashboard is now a standard WordPress page, MemberPress can be used to control access to logged in users only.
Additionally, the custom URL fields in MemberPress used for onboarding (see above) are used display only those websites associated with the logged in customer. This way, all the other web sites in Inspry's Watchful account remain private.
Below is a preview of the Inspry customer portal when a client logs in. The main features include:
Uptime status.
Quick access to recent reports.
Date picker for reports with custom dates.
Site selector to switch between sites.
Results from the malware scanner.
Results from the blacklist scanner.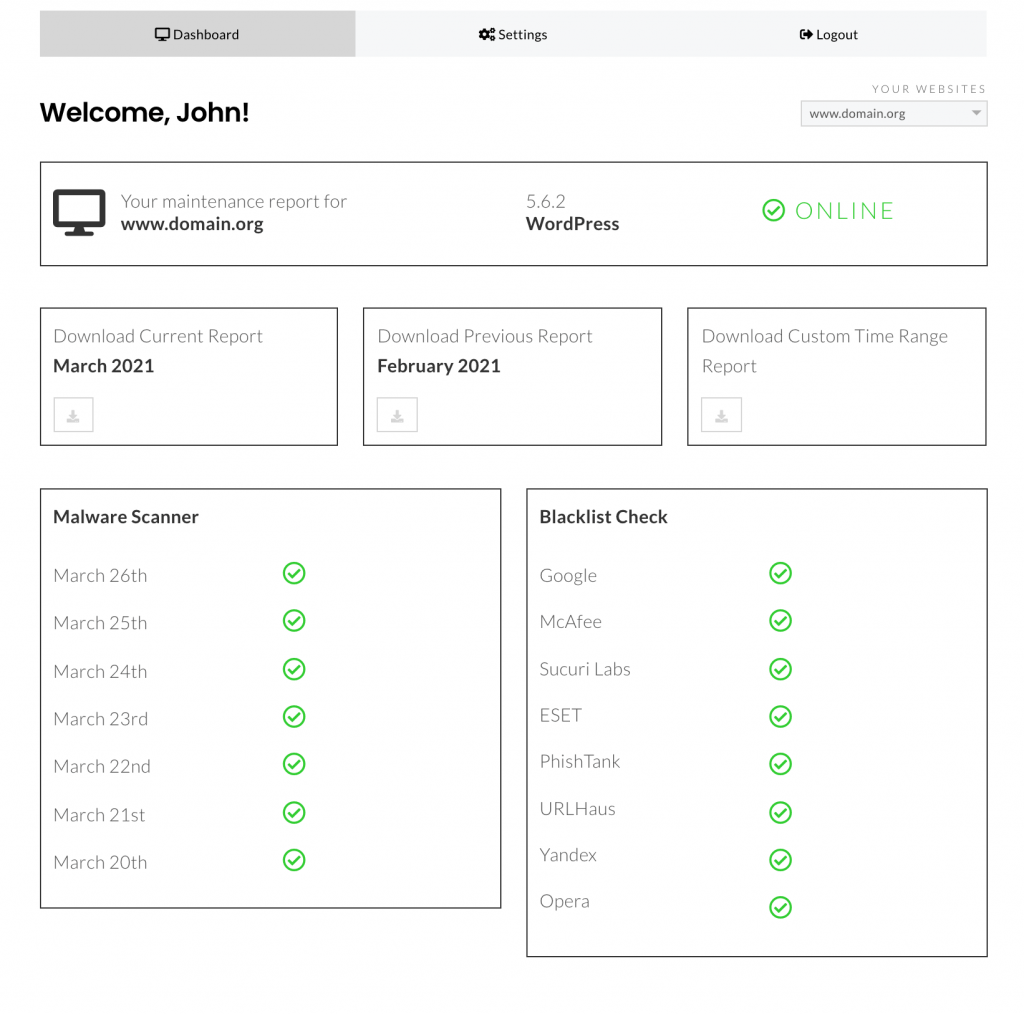 The customer can also select Settings at the top to update contact and billing information, review previous payments, and change their maintenance plan.
Limitless possibilities
Once set up, the client portal at Inspry provides a launch point for any number of additional integrations. These can be custom-developed tools like the plugin that sends onboarding data to Watchful. Or by using a code-free automation tool like Zapier almost any automation is readily available.
For example, Inspry pushes all Stripe transactions to Quickbooks. This reduces the time and frustration required for bookkeeping. Notably, this improves the daily work experience for administrative and development staff alike.
Other easy integrations are notifications sent to Slack, launching a suite of standard tasks in a project manager, and managing newsletter subscriptions.
Solution Part 3 – Getting back to their roots
Inspry didn't stop with the productivity gains and recurring revenue noted so far. They realized that design and development are the core values they provide to their clients. Their marketing experience informs their design/development work, but it's not a core service.
So Inspry formed a number of strategic partnerships with local marketing agencies. Through these partnerships, Inspry can deliver like a full-service marketing consultancy while focusing on what they do best.
In the past few years we have grown as a company with more developers in our ranks and gone back to our roots – with a focus on architecting and crafting the best digital solution we can. We use code and design to make sure the digital assets we create are moving the dial for our clients' businesses.

Matt Schwartz (Owner & Chief Strategist), Inspry
Unintended consequences
Inspry has been using their new client portal for a few years now. It has had a positive impact on their business (they manage 60+ websites) but also on the morale in the office.
Matt also shared an unexpected benefit of having a concise, intuitive client portal. Through regular use of the portal, Inspry remains "top-of-mind" when existing clients have new projects. Not surprisingly, this leads to more successful project bids and a long list of loyal customers who refer Inspry to those in their network.
In Matt's own words?
We previously interviewed Inspry's owner on the Hot Air podcast. Click-through to hear it from Matt it himself!
Want to get started with the Watchful API?
The Watchful API is well-documented and easy to use. You can be up and running with a proof-of-concept website dashboard in just a few minutes using our Dashboard Starter Pack.