How the downturn in print media inspired this journalist to build a website maintenance agency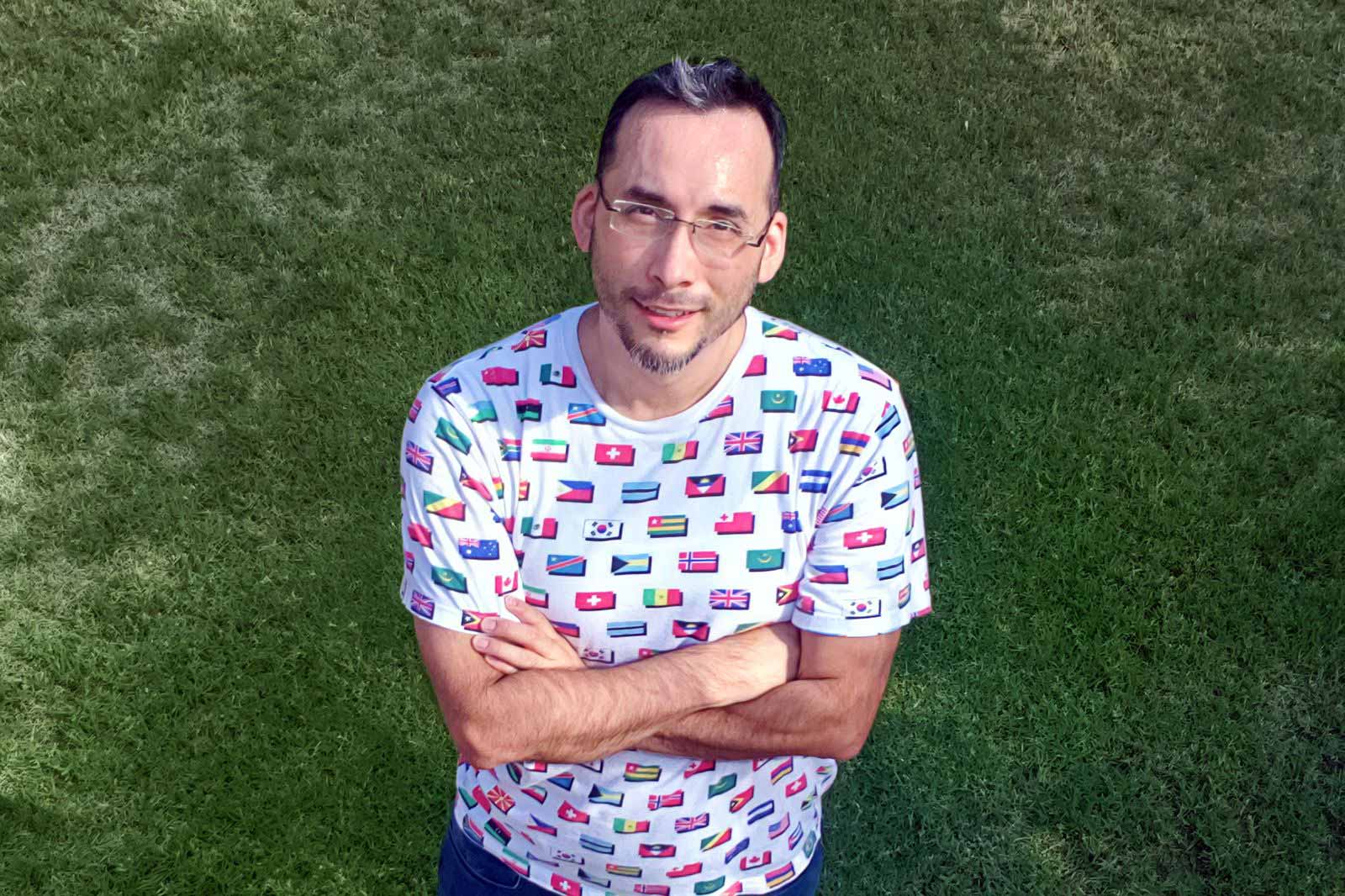 Agency Spotlight
Location:
Fresno, CA, USA
Company Size:
1-3 people
Year founded:
2011
Site Count:
30
Adrian Rodriguez loved to write from an early age. He could often be found penning short stories and poems.
But his grades in school didn't always reflect his love of the written word. After doing poorly on an English exam, Adrian convinced his teachers to swap retaking the exam with joining the school newspaper.
By the time he graduated high school, he was Editor in Chief. What started as a bit of a dodge from school work had turned into a really interesting hobby.
So it's not surprising that he studied journalism in college and continued his editorial role at the campus paper. The school paper covered everything from campus life, administrative decisions by the school, and world events such as the 9/11 terrorist attacks.
When he graduated in 2004, Adrian went right to work in the industry. He spent three years at a local newspaper covering business news both big and small, including stories on entrepreneurship and innovation.
Adapt or perish
Adrian enjoyed working in local news but the industry was changing. As the early world wide web grew in popularity, advertising revenue at newspapers began to drop.
And by 2007, it was clear that print media would have to contract in a major way to survive.
Rather than be caught in the collapse of the industry, Adrian made an important decision. To stay in the journalism business, the internet would play a central role going forward.
Fortunately, Adrian grew up in the early computing era of the 1980s and had access to many of the new technologies emerging at the time through his grandfather Cruz Rabago.
Mr. Rabago had long been passionate about mechanical things like machines and clocks. When the PC industry began to take off, he assembled a collection of computers such as the Radio Shack TRS-80, Apple IIe, Commodores 64 and Atari 800.
Critically, each of these PCs came with a manual.
The manuals had entire programs in them, so I'd spend time re-typing BASIC programs into the Apple IIe.
"The manuals had entire programs in them, so I'd spend time re-typing BASIC programs into the Apple IIe. Getting the ball to bounce across the monitor was a big deal for me at the time!", said Adrian.
Having spent countless hours learning to program on his grandfather's PCs, Adrian even created a few text-based adventure programs that were a popular game genre for that era.
At the same time as he was tinkering with programming, he learned how to use Publish It! — a publishing and layout program — during his 6th grade studies.
Fast-forward to 2007, Adrian had everything he needed to make a career change. At his disposal was his experience in the journalism industry, a programming background, and experience with publishing software.
On top of that, he had caught a bit of an entrepreneurial bug while reporting on innovation in California's thriving business/tech community.
So Adrian quit his job at the local newspaper to launch his own community news website.
Opportunity meets inspiration
Adrian put long hours into his new business. Of course he was responsible for the technology of the website. But he was also writing news stories, selling advertising, and managing the business.
After a few years of grinding out the news and building the business, Adrian had noticed a pattern: the news website impressed a number of advertisers. So much so, they wanted a website of their own.
And who better to build it than Adrian!
Advertising revenue for community news sites was rather modest in those days. And so Adrian decided to supplement his income by accepting the offers to build websites for the people advertising on his site.
Adrian soon discovered that he loved building websites.
His favorite part was using open source technologies like WordPress and Joomla to help everyday people make good decisions in their organizations, in their businesses, and in their lives.
So in 2011, Adrian founded Anchored Web Solutions to fulfill this mission for small businesses and not-for-profits.
For example, Adrian built an online tool that helps the city of Clovis, California track reports of lost pets. The service features an interactive map that helps connect lost pets with owners. The system even tracks found pets!.
Adrian exudes joy when describing these kinds of projects. "I love being the honest mechanic of web developers," he said.
Educating customers about website care plans
Of course, not everything was smooth sailing. The first few years of Anchored Web required a lot of hustle to pay the bills and attract a stable of returning customers.
And website development was maturing rapidly at the time as tools like Adobe Dreamweaver and Microsoft FrontPage gave way to content management systems (CMS).
CMSes were also maturing rapidly. The exponential growth in their use and complexity led to a big increase in maintenance time. Professional services such as security mitigation and regular backups were also of increasing importance.
Adrian solved many of these issues using bulk website management tools like Watchful. In theory, this would allow him to scale Anchored Web effectively.
But there was a problem: Adrians customers didn't understand how expensive it was to keep their sites updated and safe. They often balked at the cost of monthly website care plans. This made new project work a necessity for a successful business.
And that's when Adrian had his eureka moment: what if he built a website maintenance agency!?!
How to build a website maintenance agency
Adrian knew his clients well.
He had dug deep into their missions as well as their goals for their websites. And he approached every project as a strategic partner.
He knew that if his clients could realize the work required to maintain a safe, functioning website, they would be much more open to their ongoing fees.
Just like changing the oil in your car, regular maintenance is critical for a reliable website.
"Just like changing the oil in your car, regular maintenance is critical for a reliable website. I just needed to make my customers realize that.", he said.
The obvious approach here would be to include a maintenance report with each invoice. The problem was that Anchored Web used Watchful for maintenance reporting and Zoho for automated invoicing and payment collection.
Zoho stored the client data and billing details while Watchful stored the maintenance logs. Merging these two data sets would provide a viable solution to his problem.
Zoho and the Watchful API
To solve this problem, Adrian knew that he had to use the Watchful API. Although he had programming experience, he didn't have much experience with APIs.
But after reviewing Watchful's API documentation, he thought he would give it a try.
First, Adrian noted the unique siteID that Watchful assigns to every website it manages. He then used Zoho's free-flow scripting tool to extract relevant information from the Watchful logs. This included all the software updates performed on a website.
"Working with the Watchful API was easier than I expected. As long as I had the siteID of the website I was interested in, retrieving the log data was no problem."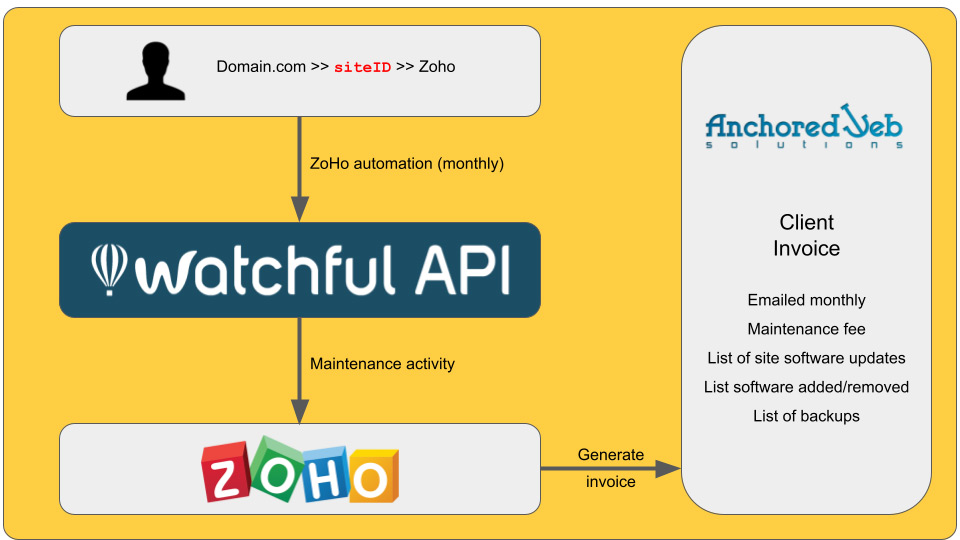 The only step left was to associate a Zoho client with the appropriate siteID and filter the maintenance logs for the billing period. It would then be possible to add the Watchful maintenance logs to the Zoho invoice in real time.
To accomplish this, Adrian used the custom fields feature in Zoho to create a siteID field. While onboarding a new client, Adrian manually completes this field.
The final step was to modify his script to read the siteID from the Zoho custom field, and trigger the script each time a new invoice was created. Then the log entries for that billing cycle are added to the invoice, and a copy of the monthly report is attached to the invoice email.
Watchful was already saving me tons of time. But more importantly, it was helping me provide a lot of value for my clients.
"Watchful was already saving me tons of time. But more importantly, it was helping me provide a lot of value for my clients. I wanted them to appreciate this, and integrating my invoicing with site activity from Watchful was the perfect solution," Adrian said.
With the updated, dynamic invoices in place, Adrian solved an important business problem for his own company. His customers better understand the ongoing services that Anchored Web provides and this has led to improved recurring revenue.
In addition, it has improved Adrians skills with APIs and provided another tool Anchored Web can use to find solutions to their clients' problems.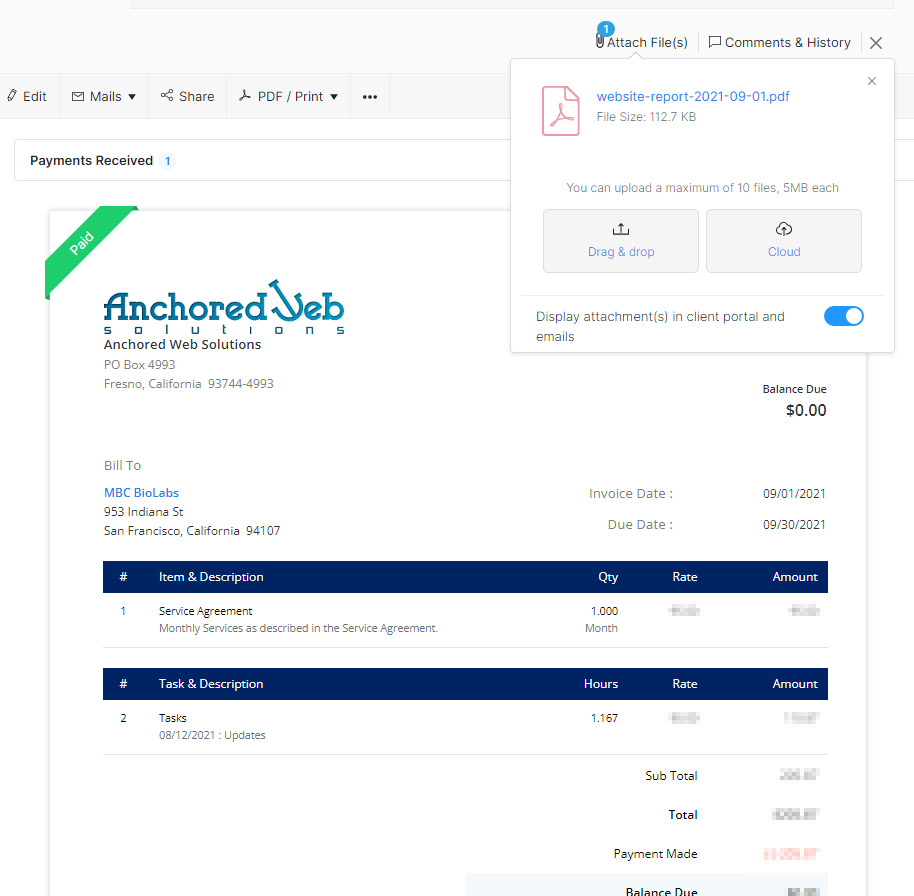 What's next for Anchored Web?
On the not-for-profit side, he plans to continue providing innovative solutions for his community.
On the commercial front, he has also been expanding into California's manufacturing sector. He has found a niche offering digital transformation strategies to drive growth.
Internally, Adrian has another pet project in mind. Anchored Web uses a visual feedback tool called Bug Herd to help its customers report any problems or changes needed on their website.
Adrian is hoping to use the Bug Herd API to do a 3-way integration with Watchful and Zoho. Any issues reported via Bug Herd would be added to the Watchful maintenance logs. Additionally, any extra fees needed for work outside the scope of the maintenance agreement would appear on the relevant invoice.
A return to journalism?
Adrian sometimes misses covering the news. He misses meeting and interviewing people and writing about their stories for his online news website.
But he doesn't regret the changing careers to build a website maintenance agency.
"When I was writing for physical newspapers, I couldn't sleep very well before a big story was going to be published. I wasn't comfortable with the permanence of what I'd written," Adrian said.
"Programming, building and maintaining websites is different. I still get to write. But the best part is that I have a chance to fix anything that's broken or missing. And besides, I just love building websites and helping people!"
When you speak to Adrian, you can feel just how committed he is to being a responsible web developer. And you can sense the satisfaction and joy it brings him.
And if the success of Anchored Web is any indication, it seems like Adrian has found his true calling.