Remote backup added to Watchful
Watchful is the outcome of three years of internal development and a summer sprint for a commercially appealing app.
Prior to this most recent effort, Watchful existed only as an administrative tool with no front-facing view.
Thus, one of our challenges was to build an engaging user interface that simplified and streamlined the Watchful workflow.
However, very soon after we began implementing the interface for Joomla and extension updates we realized that best-practice guidelines compel us to backup sites before performing maintenance of any kind. This is where remote backups come in.
Backup first, then upgrade Joomla
To solve this problem, we integrated Akeeba Backup — the predominate archive solution for Joomla — with the Watchful service.
Now you can remotely update your web site from the Watchful dashboard before you apply a Joomla upgrade or whenever else you feel like it. This feature is compatible with both the free and the Pro version of Akeeba backup (compare versions).
Scheduling backups
Akeeba Backup allows configuring backups on a regular basis, even if Watchful is not used. Usually, users achieve this by setting up a Cron Job on the appropriate server.
This is a technical task that intimidates some Joomla users and is not supported by all web site hosting services.
To solve these problems, we expanded the remote backup feature to include scheduling on a daily, weekly or monthly basis.
In addition to being fast and convenient, scheduling backups in Watchful is a great option for less-technical users or those that don't have access to the Cron Job functionality on their server.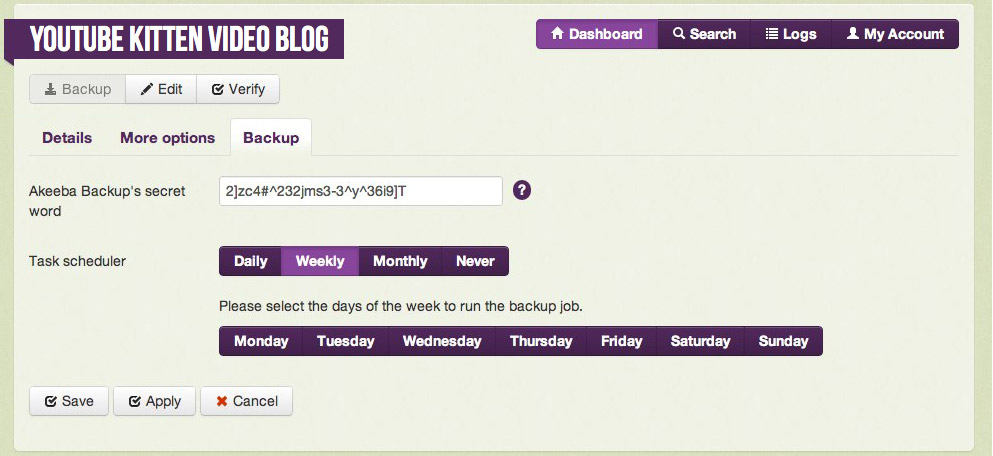 Backups are a critical feature in any web site maintenance service and the Remote Backup implementation in Watchful adds a high value to the service. Hopefully you find it as helpful and easy to use as we do.