"Upload and Install" feature and more extension updates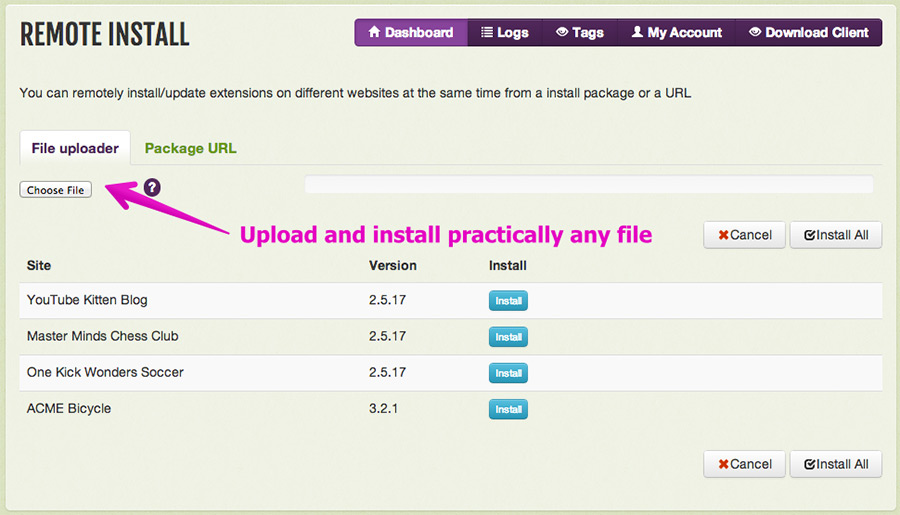 Today we are excited to announce the release of version 1.7 of the Watchful client.
This release has a number of important additions such as:
Support for updating Joomla language packs
Support for updating Packages such as Kunena and Gantry
New Upload and Install feature
Purge Update Cache button moved
Language and package updates
Watchful now supports updating languages and free packages like Kunena and Gantry directly from your dashboard, similar to other updates.
Upload & Install – How to install an extension on many sites at once
Building on our remote Install from URL feature, you can now simply upload any ZIP or TGZ file that you would like to install on your sites. Not surprisingly, we're calling it Upload and Install 🙂
Let's say you have an update for a commercial template or extension that you want to roll out to all your sites. Even if updating the extension is not supported natively (i.e. cannot be installed from your Site Detail view), here are the easy steps to push out the update or even to install an extension for the first time:
From your Dashboard, select the sites you want to update using the checkboxes at the left of the site name.

Pro Tip: Use filters or tags to find similar sites quickly.


Click the Install button in the top toolbar to load the Remote Install screen.
Click the Choose File button and select the desired package file.

Pro Tip: Only select packages that you could normally install using the Joomla installer: only ZIP and TGZ.


Click the Install All button to send your packages to all the sites.
Purge Update Cache – Finding all your updates
About 1 month ago we released a feature that allows you to remotely purge the update cache on your Joomla website which is sometimes required to locate all your updates.
From today, this feature is now found in the top toolbar of your web site.
Together, these tools greatly expand your ability to remotely update your Joomla websites and install new extensions for the first time.