Reduce Joomla maintenance times with Watchful's usability changes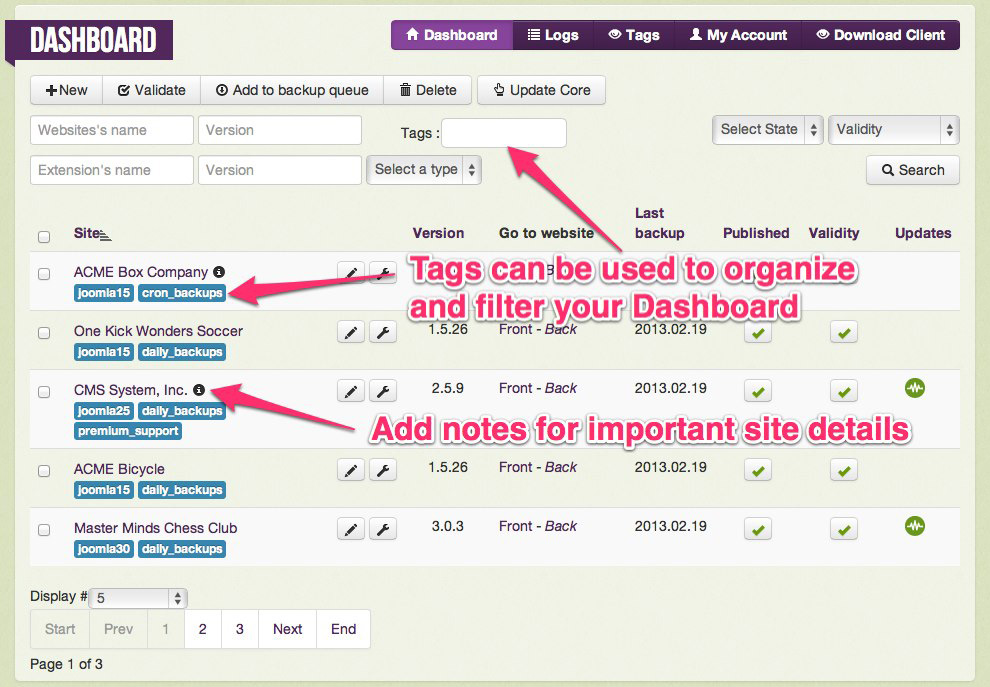 This is the third part in a 3-part series on the all-new Watchful. See also part 1 — Joomla upgrades — and part 2 — security.
Watchful is an important maintenance tool for many Joomla users and web development firms.
So, it's not surprising that we've received a healthy portion of feedback focused on usability improvements.
Usability and Tags
One of the most common requests we received was for a tagging system to help organize sites in the dashboard. The more sites you manage, the more important this feature becomes.
We've answered this request and in the screenshot below we illustrate how you can use tags to organize and filter the new Watchful Dashboard. This example uses Joomla version as a tag, but clients, agents, and support levels are other common tags.
Like many tagging systems, you create your own tags seamlessly while adding them to your sites. You can add or remove tags when you are editing the site details. This is just one way you can reduce Joomla maintenance times.
Usability and Notes
The screenshot above also showcases the new Notes feature.
As the name implies, this is a simple notation feature that can be used to keep track of maintenance tasks or other details of your site that is not already recorded in the Watchful site logs.
Similar to tagging, you can access the new Notes feature when editing your site details.
Usability and Backups
We've also added small improvements to the Akeeba backup manager that can save a lot of time when doing site maintenance.
In the original version of the Watchful Dashboard, each site had to be visited individually to initiate a backup — critically important before applying a Joomla upgrade for example — or view the date of the latest backup.
In contrast, the new Watchful Dashboard allows you to add sites to the backup queue in bulk using the button above the filters (see below).
The status of the backups for your site — including those that might be running currently — is also displayed on the new Dashboard.
Together, these changes save a lot of clicks (and thus reduce Joomla maintenance time) when rolling out updates and quickly provide peace of mind knowing that all your site backups are proceeding as expected.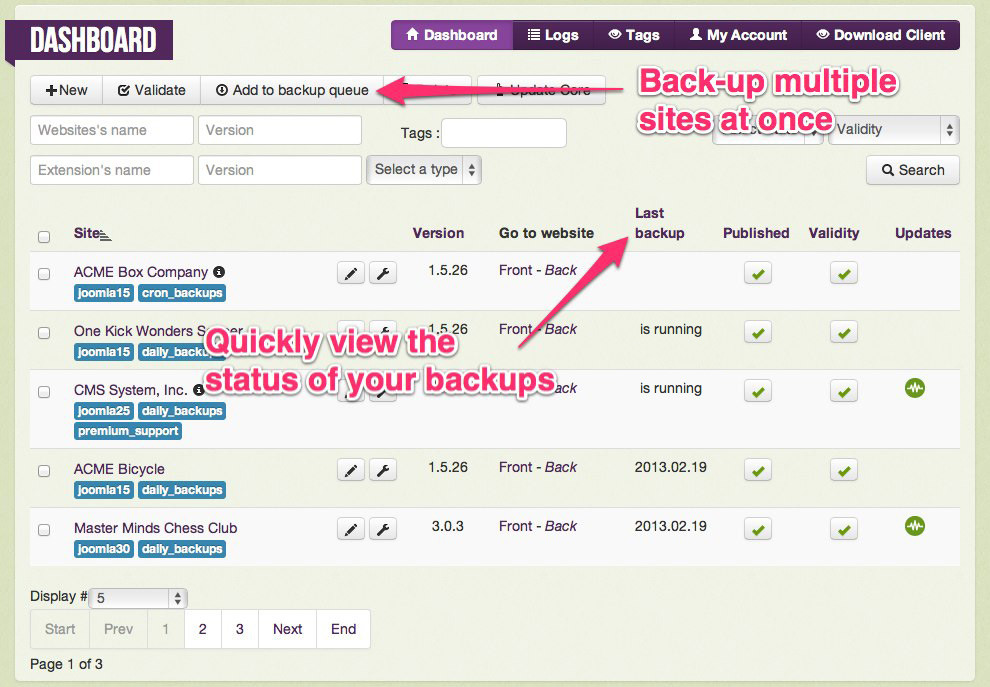 What's next
We've got a lot more in store for 2013, including some exciting announcements for next week.