New Joomla dashboard makes upgrades easier, supports Joomla 3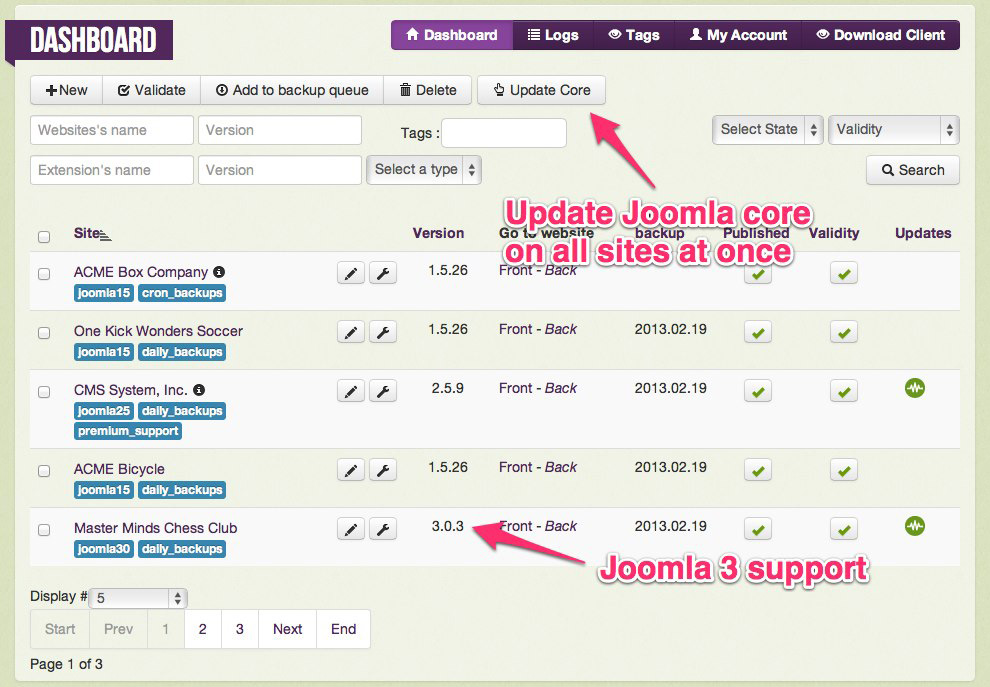 This is the first in a 3-part series on the all-new Watchful. See also part 2 — security — and part 3 — usability.
Since our launch in September, we've learned a lot about remote web site management both from working with the technology and listening to our customers.
Today I am proud to say that we have used these lessons to re-engineer our Joomla update and monitoring service. The result is version 2 of the Watchful and Joomla Dashboard that is currently live for all our customers.
Joomla upgrades
One area that we've focused on is updating the core files in Joomla 2.5 or greater.
As you can see below, you can easily choose any sites that have an upgrade and select the Update Core option at the top of the screen. Not only is this a great time saver, it lays the groundwork for a more robust remote updater that we are already working on.
We've also made it easier to add Watchful to your Joomla sites by making a single, combined Client (version 1.5) that works on Joomla 1.5, Joomla 2.5 and — for the first time — Joomla 3.
What's next?
In the next article, we'll examine the security changes we implemented along with the new Joomla Dashboard.