How to keep your Joomla websites in the "green zone"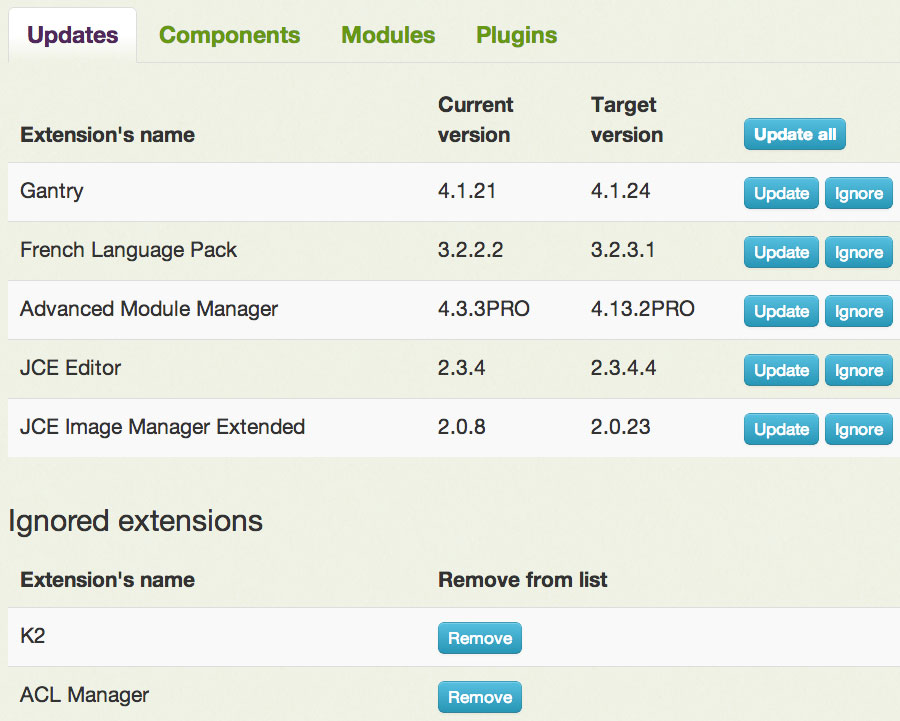 Since we first opened our doors, one of the characteristic features of our service has been the colorful icons on the Watchful Dashboard that indicates whether or not Joomla updates are pending for your websites. Every Joomla user's goal is keeping their websites in the "green zone".
Red light. Green light.
The system is simple: green light means that no updates are needed, red light means that updates are available. 
In theory, this is a great idea. Feedback from our customers shows that Joomla administrators work hard at keeping websites in the green zone.
In practice however, it can be very difficult to green zone every site in your dashboard. For example, you may have a complicated extension for which a 1-click update may break the functionality on your site. 
Typical examples are extensions that do not yet support HTML overrides and thus have customizations directly to the core extension files.
Another example are site templates which often include heavy modifications (see more about templates below).
To address this problem, today we are proud to announce the immediately availability of Ignore Update, perhaps our most commonly requested feature.
Using the ignore list
To add an extension to the update list, simply click the Ignore button on the Updates tab of the Site Detail view, as shown in the screenshot above.
An ignored extension will appear below the list of updates (if any) on the same tab. While an extension remains on the Ignore list, extension update notifications will be suppressed.
To restore update monitoring for an ignored extension, use the Remove button in the ignored list as shown above.
What about CMS updates?
The ignore feature does not apply to Joomla CMS (core) updates. We strongly recommend that all users keep their Joomla sites updated to the most recent version in their series, 1.5.x, 2.5.x or 3.x. At the time of writing, this includes updating Joomla 1.6 and 1.7 to Joomla 2.5.x (or higher), and Joomla 3.0 and 3.1 sites to the latest 3.2.x version.
What about template updates?
As noted above, we expect that template updates will be a very common use case for the Ignore feature. This will become very useful when the next version of the Watchful client is released as template update notifications will then be supported.
Go Green!
We hope you find this new feature useful in lighting up your Dashboard with a slash of green color.
But remember, out-dated extensions are the most common source of hacked sites in Joomla, so please ignore extension updates sparingly and with caution.