ACL Manager updates now supported

Fine-grained control over user permissions was a long-anticipated feature for the Joomla CMS until it's introduction in Joomla 1.6.
Joomla manages these permissions through access control lists (i.e. ACL).
While a much-anticipated and powerful feature, ACL can be complex — even on simple websites. Inheritance between user groups and the numerous places in the Joomla backend interface where permissions are managed can be confusing.
ACL Manager — Joomla ACL simplified
ACL Manager, a popular Joomla add-on, simplifies the use of ACL with a clickable grid of permissions across entire sites. See the preview below for an example. Not only does this make ACL management much more efficient, it makes understanding the ACL on your site more intuitive.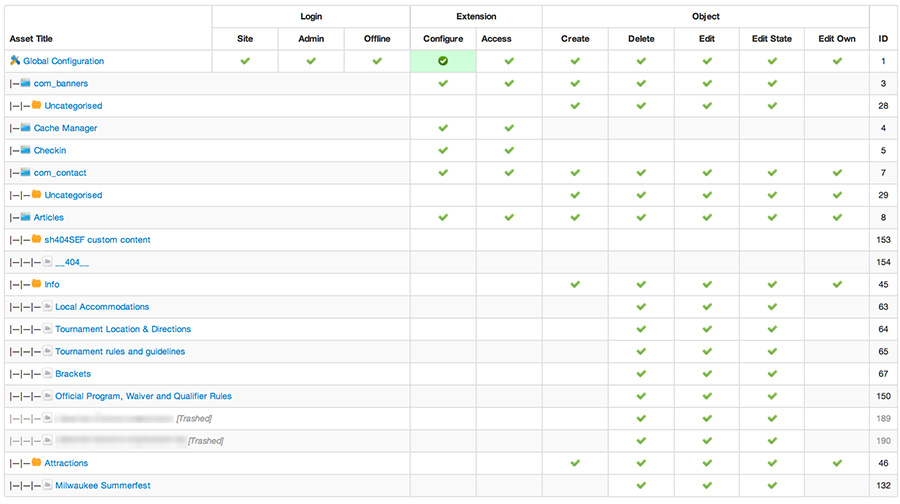 Furthermore, ACL Manager incorporates diagnostic tools to troubleshoot common permissions issues when migrating between Joomla versions.
The award-winning Joomla add-on released in September 2011 by the Dutch firm Sander Potjer Webdesign. It ahs earned a near-perfect rating (4.99/5 from 86 reviews) on the official Joomla extensions directory.
Innovating the Joomla update process
Given the importance of this utility and the high quality of the software, we decided that ACL Manager was a good addition to our growing list of commercial add-ons that can be updated from the Watchful dashboard.
After coordinating with Mr. Potjer both at J and Beyond 2013 and more recently via email, we made quick work of the task.
Thus, we are excited to share the news that Watchers can now remotely update ACL Manager right from their Watchful Dashboard along with any other supported updates for Joomla 2.5 and beyond.

Similar to our Joomla update process for Akeeba Backup Pro, Admin Tools Pro, and all 20 PRO Joomla add-ons from Nonumber, ACL Manager subscribers need to add their personalized Download ID from aclmanager.net in the My Account area of their Watchful profile to enable remote updates.
Nothing makes us happier than innovating in the remote Joomla website management space and we look forward to continuing to provide high-quality services to ACL Manager and Joomla users everywhere.