Tagging feature improved on new dashboard with multi-site option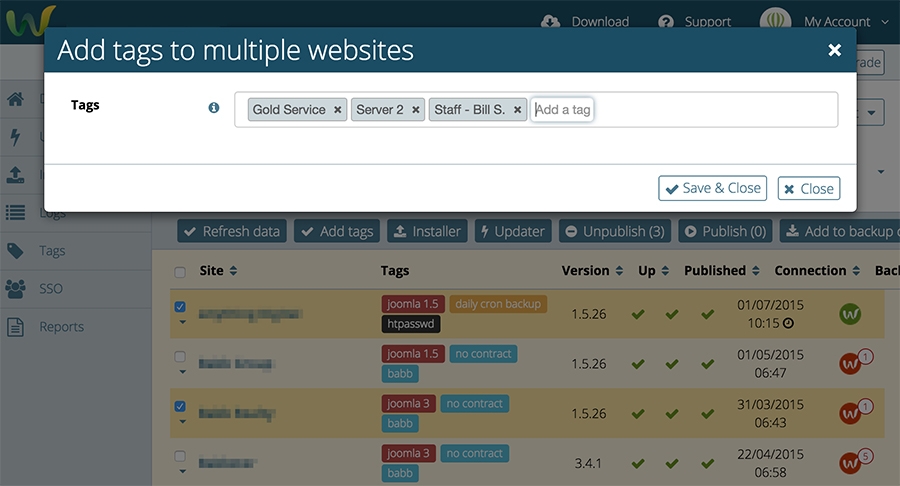 Watchful has introduced an immensely popular feature that empowers its users to associate custom tags with websites in their personalized dashboard. These tags excel in quickly filtering sites by criteria like staff, service plan, and software version, adding to their appeal.
Today, we eagerly announce a significant enhancement to the tagging process on the revamped Watchful dashboard. Our goal is to streamline and simplify the procedure of assigning tags to multiple websites with utmost convenience.
To take advantage of this exciting feature, navigate to your dashboard and select the desired sites. Once you have made your selections, locate the "Add tags" button conveniently placed in the toolbar. With a single click, we will present you with the multi-tag dialog, an interface designed to facilitate the tagging process.
Within the multi-tag dialog, you can effortlessly enter the desired tags for the selected sites. Whether you have one tag or multiple tags to assign, Watchful ensures a seamless experience. Once you enter the relevant tags, simply click the "Save and close" button, and the changes will be applied instantly.
We are confident that you will appreciate this improved and time-saving tagging feature. By providing a straightforward and efficient method to categorize and organize your websites, Watchful empowers you to manage your online presence with unparalleled ease.
Try out the improved tagging feature today and discover the power of efficient website management with Watchful. We are excited to accompany you on this journey of productivity and organization, and we look forward to bringing you more innovative features in the future.