Monitor sales on your Joomla eCommerce site with a Watchful App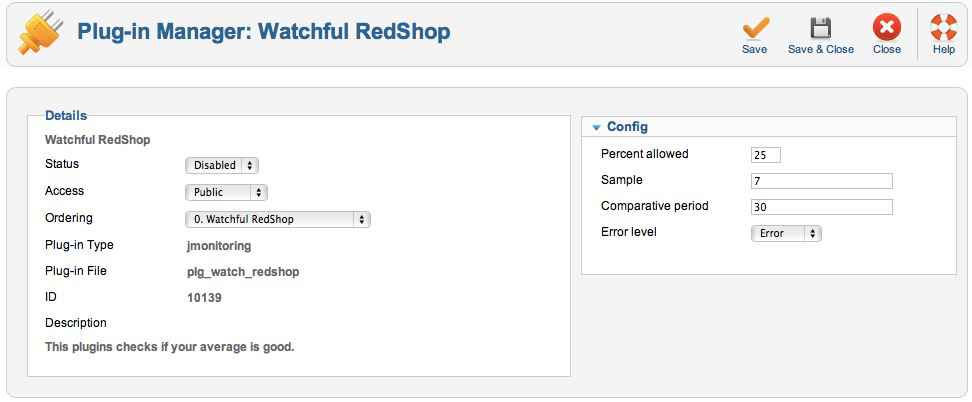 Yesterday at Joomla Day Denmark 2012 we announced the first Watchful App, a customized plugin for monitoring the activity of a Joomla-based eCommerce site.
Watchful Apps are add-ons that install on your Joomla site like any extension. Once installed and published, they connect to the Watchful monitoring system to perform a specific task.
The redSHOP App for Watchful sends a notification when there is a change in average sales of a site using the redSHOP eCommerce extension (redWEB ApS, Odense, Denmark). The parameters are completely customizable so that the notification threshold and the monitoring period can be set to match the sales frequency.
For example, if you have 1 or 2 sales each day, you might configure the redSHOP app to send a notification when your 7-day sales average is 20% higher than the last 30 days. In addition to the regular redSHOP reporting tools, the app is a convenient way to monitor the performance of your marketing activities.
In contrast, if your site is making 20 sales or more each day, you might want configure the app to send a notification when the hourly sales average drops 25% compared to the average of the last 24 hours. Such a notice might be expected only when a payment gateway has failed or another problem that prevents a purchase. Early notification of such a problem is an excellent way to detect problems early, critical for ay eCommerce site.
Ronni Christiansen, Founder and CEO of redWEB ApS, was present for the announcement and had this to say:
saw the redSHOP plugin for watchful.li yesterday quite nice to be notified id your sales drop 20%. check it out :)— Ronni Christiansen (@redwebdk) October 27, 2012
The redSHOP App for Watchful is currently a working prototype/beta version (thanks to @olivierk and @joomlablogger for testing!) and will be publicly released in the coming weeks.
All Watchful users — including those using our free trial — will be able to download the redSHOP Apps at no additional cost and install them on as many sites as is appropriate.  
In addition, the following Apps are currently in production:
User Monitor – send a notification when users are created or deleted
Content Monitor – send a notification when an article is created or deleted
Extension Monitor – send a notification when an extension is installed or uninstalled
Acymailing Queue Monitor – send a notification if the email queue is stalled or fails
As you can see, some of these Apps simply add a notification to information that Watchful already tracks. Additionally, we are available to write custom Apps that fit your specific needs. Apps can be created to suit almost any budget and any technical requirement such as a change or addition to the database (i.e. new content) or a file modification on the server.
To discuss an App please enquire with Customer Service or post a support ticket.