Joomla's SSO plugin testing begins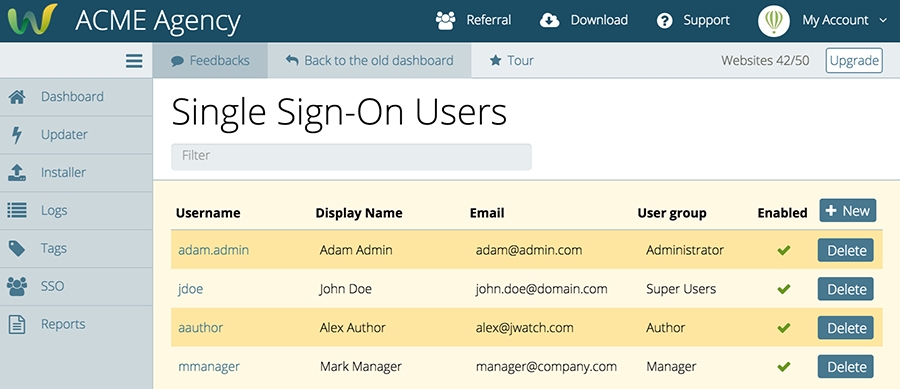 Every Joomla website needs at least one user account to perform maintenance and update content. So when you are managing multiple websites, it can be a time consuming process to track and change passwords regularly.
In addition, if you have multiple staff members, the issue is amplified for each person.
This problem of password management is so tedious that many agencies share one Super User account for the entire staff. This results in poor accountability and an increased risk of having passwords lost or stolen.
To help address these issues, today we are releasing a single sign-on (SSO) feature for our beta testers. If you want to test, drop us a note here.
SSO streamlines user management, enhancing security and saving time by centralizing credentials and contact info for websites. You can read more about how SSO can improve your web agency on our blog.
Watchful's SSO implementation allows you to remotely manage access to your websites by assigning a user to any of the default Joomla usergroups.
Using the plugin is quite simple and the initial setup should take less than 5 minutes for all the sites in your dashboard.
When the setup is complete the SSO user(s) can login to any of the sites in your Watchful Dashboard that have the SSO plugin installed.
Note that the SSO plugin does not provide single sign-in capabilities the way signing into GMail gives you access to many Google services. Instead, users will utilize the same credentials for all SSO sites, but they will still need to log in separately.
Below, you will find brief instructions for using SSO with your Joomla sites. Please help us test the convenient new feature and be sure to leave your impressions or bug report using the feedback button on the new dashboard.
The SSO feature is currently only available for Beta testers. To join the program, drop us a note using the contact form.
Download the SSO plugin here.
Install on any Joomla 2 or Joomla 3 sites in your Watchful dashboard you want to manage with SSO. Watchful's remote installer makes short work of this task. The plugin is automatically enabled on install.
Visit the SSO section of the new Watchful dashboard (see preview above) and add at least one user.