Add sites with one click with updated Watchful Client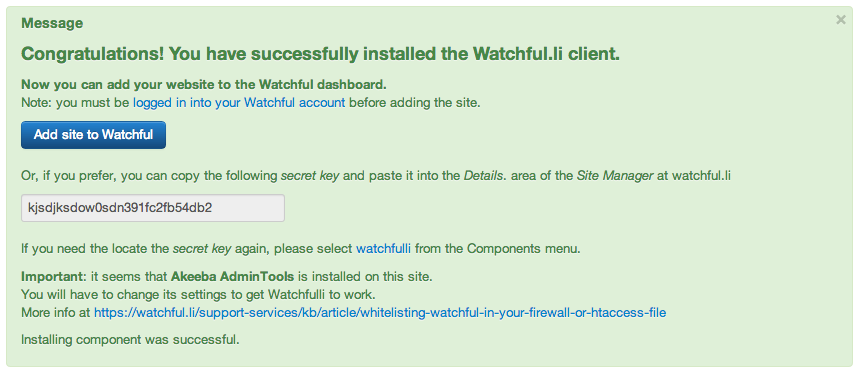 Today we are proud to announce the immediate availability of version 1.5.7 of the Watchful client. This release comes quickly on the heels of last week's new notification customization feature.
Today's release includes a number of changes, but two stand out as they are designed to save you time when performing maintenance on your Joomla websites.
Add sites with one click
The first time-saving feature is the ability to add a new website to your Watchful Dashboard immediately after the install of the Watchful Client with a simple click.
The days of manually entering your site details and copying and pasting the Watchful Secret Key into the New Site form are over!
Once you add your website to the Watchful dashboard, you can now easily add sites and verify the connection with just one click (see our step-by-step instructions).
Faster validation
The second change that will save you time is performance-related and you may visibly notice a faster validation process. We've shaved off some time in this process by updating how we receive the information about your extensions from your website.
Additonal improvements
Other notable changes include:
More precise collection of data such as system names, displayed names and translations related to your installed extensions
Several minor bug fixes that led to validation error for a small number of sites under special circumstances
Additional checks on PHP version during install to prevents compatibility errors
French translations were added to the post-install page
How to get the latest version
Upgrading to this client is very easy. Simply use the updates feature of your Watchful dashboard, or by downloading the new client from the My Account area and installing "old school" in the backend of each one of your Joomla websites.
Of course, our Knowledge Base, FAQs and support staff are available should you run into any trouble.