Fun, frictionless publishing – the key to the future of Joomla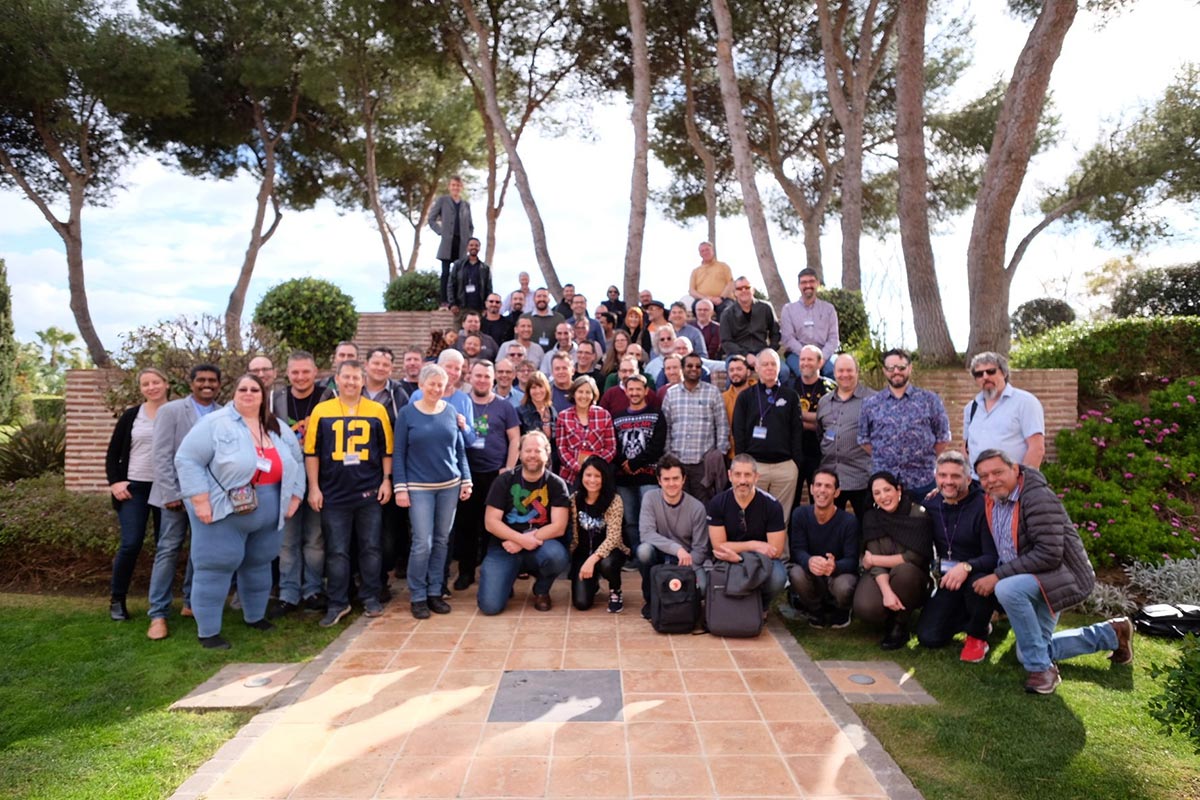 A love letter to the global Joomla community.
This weekend I attended Joomla's Forum for the Future (FFTF) in Malaga, Spain.
FFTF was a 3-day event that followed an unconference-style format where attendees brainstormed and networked on the future of Joomla.
The conference was organized by the Joomla project leadership and was attended primarily by seasoned Joomla users/agencies, developers, service providers, experts, and project volunteers.
The event inspired me to write this "Love Letter to Joomla". It summarizes my takeaways from the FFTF and my thoughts of Joomla.
If you'd like to co-sign this letter, please note that in the comments.

Please include your first and last name, and optionally your agency name or 'freelancer' status.
Joomla, I love you. Let me count the ways.
You make me better by teaching me new things.
You make me independent by helping me change careers and run my own business.
You make me feel proud when I can put food on the tables of my employees and business partners.
You make me feel humble when I see all the folks around me who are smarter and better than I am.
You make me feel happy when I contribute something to the community that others will benefit from.
You make me heartsick when I am apart from my Joomla friends and colleagues.
You make me more tolerant by introducing me to people from other parts of the world.
For all this and more Joomla, I love you.
Something is different
But lately, things have changed. It felt like something was missing. The love is still there but perhaps the excitement is not.
Maybe I was not putting in enough effort. Maybe I needed to re-discover why I fell in love with you in the first place.
So I attended Forum for the Future as a therapeutic step in our relationship.
I was excited to brainstorm the ways to reverse the drop in Joomla usage and restore our status as a relevant player in the world of online publishing. I was excited to find ways to fix our relationship.
It was disappointing to find that many Joomla insiders were perfectly pleased with the current state of our relationship.
It's time for a reset
I believe it's time for a more radical reset.
Many people sell Joomla-based sites and services to prospective web clients as a "fast, secure, and powerful" content management system.
Unfortunately, these adjectives can be claimed by many website building tools. This includes WordPress which has been causing Joomla break-ups for many years and dominating the web development marketplace.
Good friends try to help
But there is hope.
I was pleased to discover that a few of us — those who are heavily invested in the Joomla ecosystem as a whole — did recognize the challenges we are facing. I was happy to hear their ideas on ways for Joomla to recapture its relevance in the marketplace.
These suggestions included:
Add professional staff to Joomla's virtual "front office", including a product manager to help align the efforts of code contributors.
Follow the lead of other successful relationships like Typo 3 and WordPress who offer bounties for the development of critical new features and/or refactoring sprints.
Purchase an E-commerce system for Joomla that would be officially supported by the project and offered to the community for free.
Offer Joomla training to schools and universities to encourage more usage and engagement.
Release a Joomla distribution tailored for educational institutions like schools, universities and libraries.
Promote future large-scale rollouts of Joomla as is being done for government sites at JoomlaGov.info.
Very long term support for major Joomla releases (5+ years)
All of these ideas have merits, and in a healthy relationship these would be wonderful experiments, like date nights or a romantic vacation.
But in my view, these suggestions — though welcome and appreciated — still lack the transformational power needed to fix our relationship. We need to return Joomla to the innovative and influential position it once held in online publishing.
Other couples get it
Others have been down this road before and looked for solutions. In the WordPress and Drupal community, you will also find this similar fear of being left behind.
For example, WordPress pushed through the development of a highly controversial but exciting new editor. Have you tried it? It's a lot of fun to use. The WordPress leaders fought a lot with their partners over the switch to this new editor. But I see the relationship improving every day.
I know you may think WordPress is a bit aloof and not capable of building powerful sites, but you really need to take another look.
I also speak with Drupal users and they are adopting page-builders and layout builders. By the way, they see folks falling in love with WordPress, and between you and me I think they are a little jealous.
MailChimp has had a block-based, responsive editor for years. They recently launched websites as a core feature.
And have you seen Medium? Their publishing tools are very easy to use. As a hosted solution, there's nothing to install. This means I really don't need to work that hard at building the relationship. Facebook has a similar publishing tool to Medium, and both are massively popular.
Of course, these hosted solutions do not look like they are in committed, healthy relationships. And I hear a lot of people are breaking up with these platforms recently. That's why I prefer relationships with Joomla: they are likely to be more permanent, but only if both sides put in the required effort to regain that loving feeling.
And finally there is SnapChat, the tinder of the online publishing world. My publishing experience with SnapChat is very superficial and transactional, but "WOW" is it fun! And all the kids are in love with SnapChat. How exciting!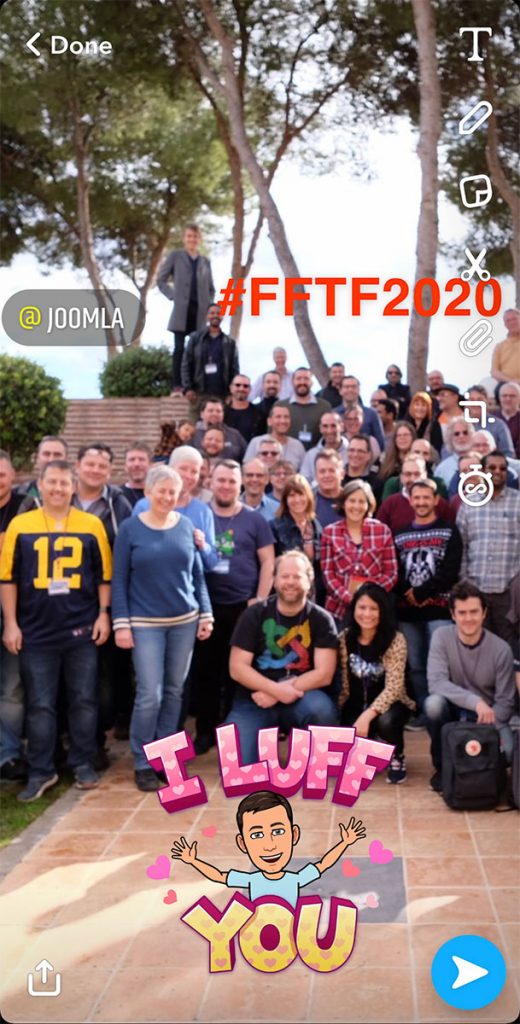 I know some people think online publishing is a problem we solved years ago, but WordPress, Facebook, Medium, and SnapChat tell a different story.
Even Joomla users love easy publishing tools. Page building applications like SP Page Builder are one of the most popular Joomla add-ons.
Back to basics
So how do we capture that magic we once had? When I first met Joomla, it felt so easy to use. So liberating. So free.
Back then, publishing content seemed so easy when we worked together.
And the results were simply wonderful. What a breath of fresh air compared to my prior relationships with things like PHP Nuke and Adobe Dreamweaver.
We need to find a way to return to simplicity.
I hear that Joomla 4 is coming soon with a new admin area design, as well as adding a new workflow feature. I know that you are committed to getting better and being the very best version of yourself.
But hard work alone won't make me fall in love again if publishing remains held back by the same experience from nearly 20 years ago. If you compare these two screenshots, you can see that the Joomla editor today is essentially unchanged from that published in Mambo (the predecessor to Joomla) in 2003.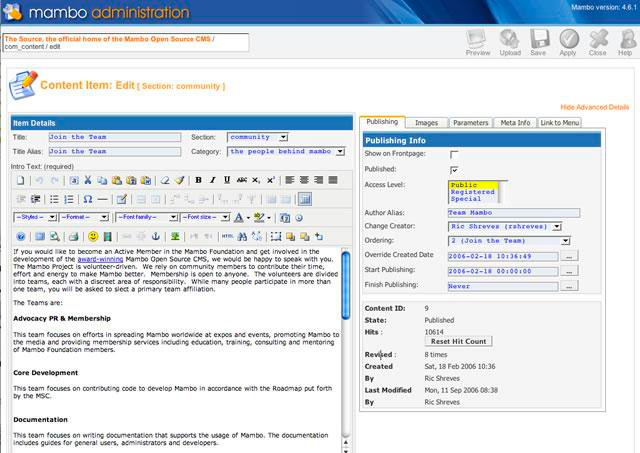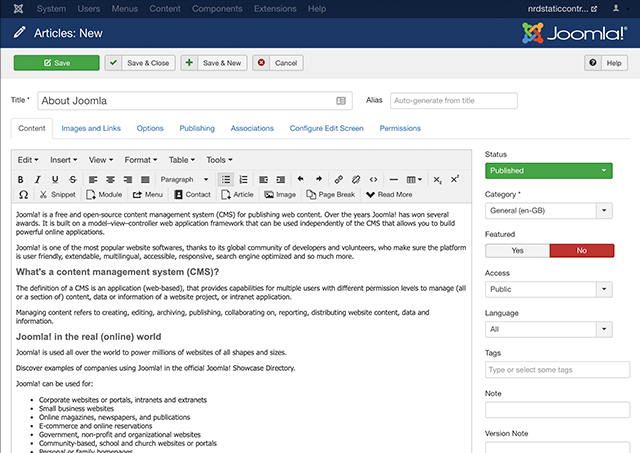 Remember that we fell in love when you made publishing feel exciting and easy. In today's world, that can no longer be a box with dozens of buttons across the top.
Today, we can't be clicking across multiple tabs to add images and custom field data and meta data.
Online publishing needs to be fun again. And it needs to be effortless. It needs to be mobile. Not "kinda" mobile: Truly mobile.
And online publishing needs to be intuitive. You can't teach someone how to love you.
Joomla, I shouldn't have to learn how to love your publishing experience.
Rethinking online publishing
Looking around, it is clear to see that the strongest relationships in online publishing are based on a fun, effortless experience. We've been toughing it out for years now with almost no change in this area.
But I don't want us to just copy others. For our relationship to succeed, we need a unique solution that works for us.
A new outfit — like the simplified admin template proposed in Joomla 4 — is not sufficient to attract new people and new partners.
Workflow is not a sufficient change if we want people to ask about us again at parties and in board rooms.
Updating underlying frameworks is not going to make people fall so insanely in love with Joomla that they will volunteer their time to work on the project and pay their own expenses just to travel and spend some time with you.
No, we need to rethink our publishing experience and develop an innovative, new way to publish that is fun and effortless. We need a radical, innovative and highly visible change to the publishing experience if we want to recapture the love we once had and become relevant again.
Importantly, in our relationship I can't think of one problem that won't be solved or one target market that won't be well-served by people falling in love again with publishing with Joomla.
The future of Joomla
Look, I'm really glad we took the time to meet at FFTF. It reminded me of all the good times we've had and all the passion between us.
The work done on Joomla is great, but let's back up a little and view the bigger picture. I don't want to push the release of Joomla 4 just because we think "people are waiting for it". People are waiting to fall in love again, and we need to give them a compelling reason to do so.
How about we go on a date and leave all our expectations behind. Let's all sit down together and ask a few questions:
How do we create a publishing experience that people will love?
How can we innovate the publishing experience of the future? We need to lead!
What would publishing be like if we created it from scratch without being restricted to antiquated user interfaces.
Here are a few ideas to get us started:
Massively simplified publishing interface — Are tabs a good usability feature? In the same way that too many fields in a form reduces completion rates, tabs very likely slow down and discourage content creation in Joomla. Let's ditch them.
Effortless media addition and markup — Why is uploading and managing images so hard? In 2020 and beyond, we should at least be able to drag-n-drop an image into the editor and have everything upload, resize, and reformat automagically. Simple image editing and markup would make a world of difference and be immediately familiar to younger users who are growing up on SnapChat. Audio and video embedding should be standard also.
Customizable article types — I think we need a way to make it easy for content creators to make custom content types in the Joomla backend. For example, specialized article types for things like newsletters, events, catalogs. Then we can make unique links for content creators that clearly define what kind of content is being created. Our existing access control and custom fields would super-charge this feature well past WordPress. And importantly, site builders could leverage this feature to build custom, fun, and intuitive publishing experiences that users will fall in love with! At the same time, we get to very visibly show the world the power of all the incredible tools that we've been baking into Joomla over the last decade.
Mobile-first publishing — For years we've applied a mobile-first strategy in everything from design to templates to SEO. We need to aggressively move towards mobile-first publishing if we expect young people to get on board. If that sounds unnecessary, consider that desktop behemoths like Adobe and Microsoft already have powerful mobile editing apps. Importantly, the mobile publishing capabilities of many of our competitors is rudimentary or non-existent. This represents a massive opportunity.
In other words, let's get out of our comfort zones and be innovative and creative. That's when real growth happens. And that's when I'll fall in love again.
Otherwise, I'm afraid I'll end up alone with all this passion and nostalgia and excitement. But you won't be around to love me back. And that won't be good for anyone.
Forever Yours,
Victor Drover
Co-signed by:
Mohamed Abdelaziz (JoomReem), Kawshar Ahmed (JoomShaper), Wilco Alsemgeest, Alex Andreae (SourceCoast), Mark W. Bender, Yannick Berges, Phillippe Bethencourt, Maarten Blokdijk (Cloudfaction), David Boggitt, Martijn Boomsma, Niels Braczek, Kendall Cabe, Joe Campbell, Randy Carey, Herve Daignau (freelancer), Emmanuel Danan, Mike Demo (Freelancer), Hugh Douglas-Smith, Mike Feng (simbunch), Yannick Gaultier, Laura Gordon, Richard Gosler, Jen Gress, Ed Hathaway, Stephan Herby (Freelancer), Aldemar Hernández, Adi Heutschi, Chris Hoefliger, Rowan Hoskyns Abrahall, Robert Jacobi, Soren Beck Jensen, Chris Keen, Derek Kernohan (Keys To The Net), Daniel Krajcek (9x9x9.net), René Kreijveld, Sabuj Kundu (Codeboxr), Alejandro Kurczyn, Eric Lamy, Viviana Menzel, Brian Mitchell, Ian Nelson, Chima Ochiagha, Claus Ømand, Brian Peat, Roger Perren, Emili Pertussini (abacmedia), Alexis Priddy (YellowWebMonkey Web Design), Anibal Sanchez, Saurabh Shah, Romain Simon, Alex Smirnov, Geoffrey Smith, Niels van Strien, Toivo Talikka, Bill Tomczak, Patrick Toulze, Alejandro Vega, Johan van der Velde, Chuck Wadlow, SD Williams, Spyros Zoup.
If you'd like to co-sign this letter, please note that in the comments.

Please include your first and last name, and optionally your agency name or 'freelancer' status.