Take a Break from Managing Your Sites With the Update Scheduler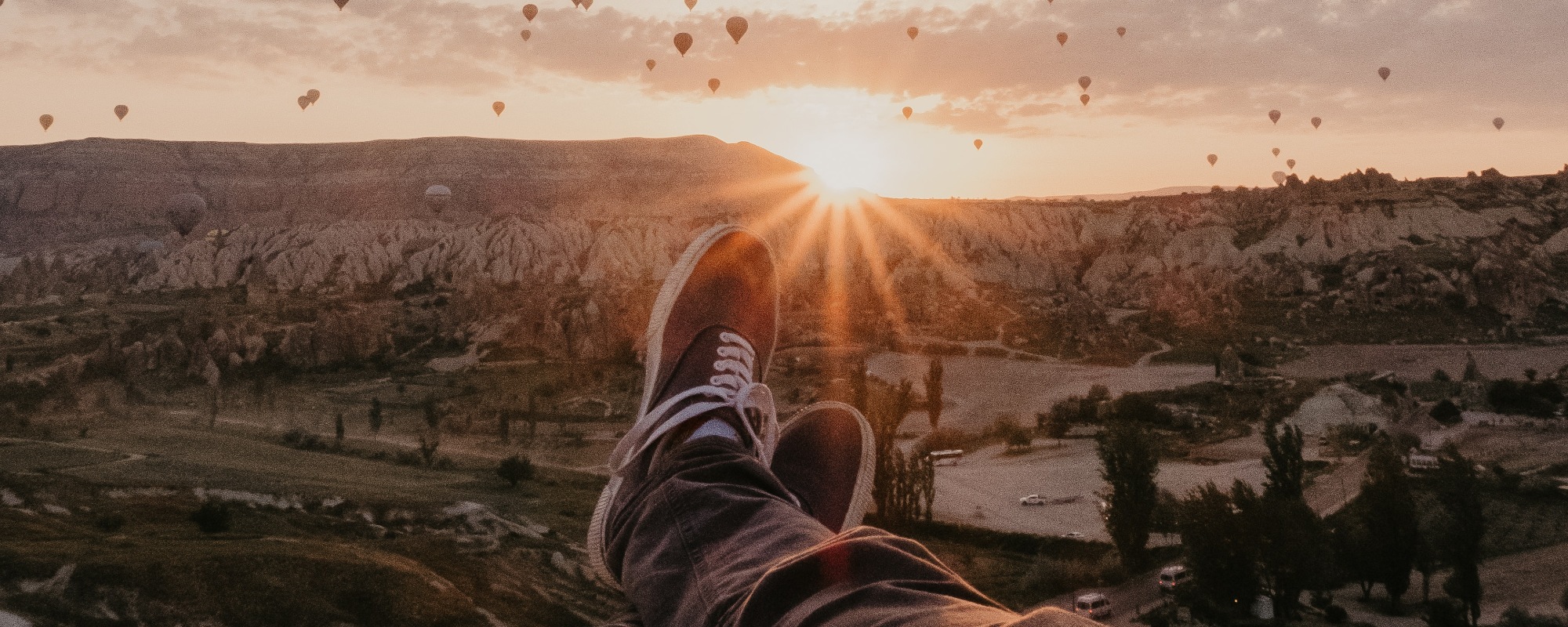 Imagine the following scenario:
It's late on Friday night and your customer has to talk with you right now. They decided to make one last change for the week. One final update before going offline for the weekend.
And it blew up the whole site.
The customer calls you, begging for help right now. "Something went wrong with the site. Can you fix this for me now?"
Before long, it's the early hours of Saturday morning, and you're still working.
This week's new Watchful feature brings you a step closer to never having a Friday night panic again.
The "Update Scheduler" allows you to choose when auto-updates will NOT occur. This lets you relax on weekends or vacations, without having to worry about site updates.
Go to Update Scheduler in your Watchful account. Here you can create multiple rules for managing site updates.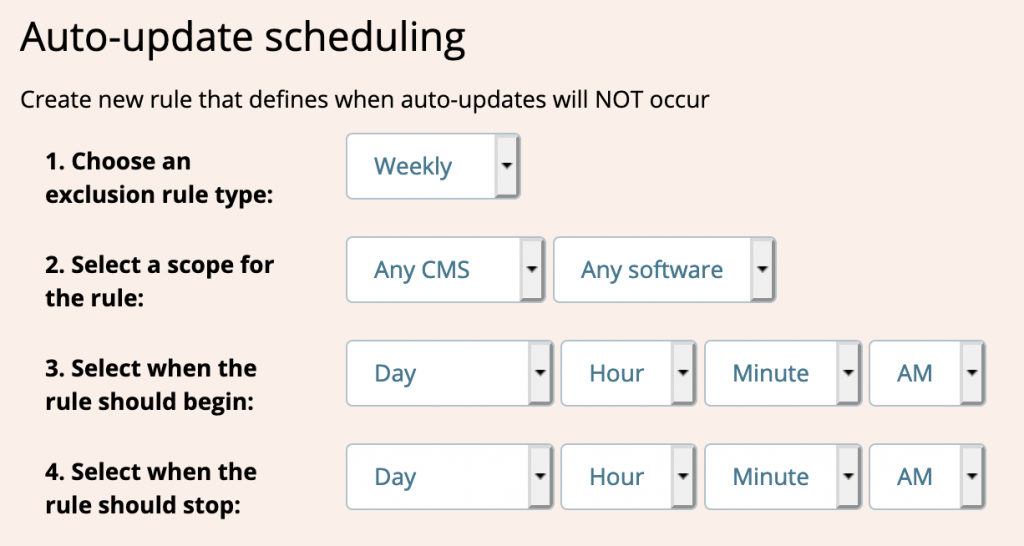 Let me walk through some examples of how to use this new feature.
No Friday or weekend updates
Here at Watchful, we care about your work-life balance and mental health. We take active steps to reduce stress for our staff and customers.
For example, we don't release any code updates on Friday, Saturday or Sunday. This prevents Friday night problems for anyone involved with Watchful.
You can do the same with the settings in the image below. This Weekly scheduler makes sure that no software updates will happen between Thursday afternoon and Monday morning.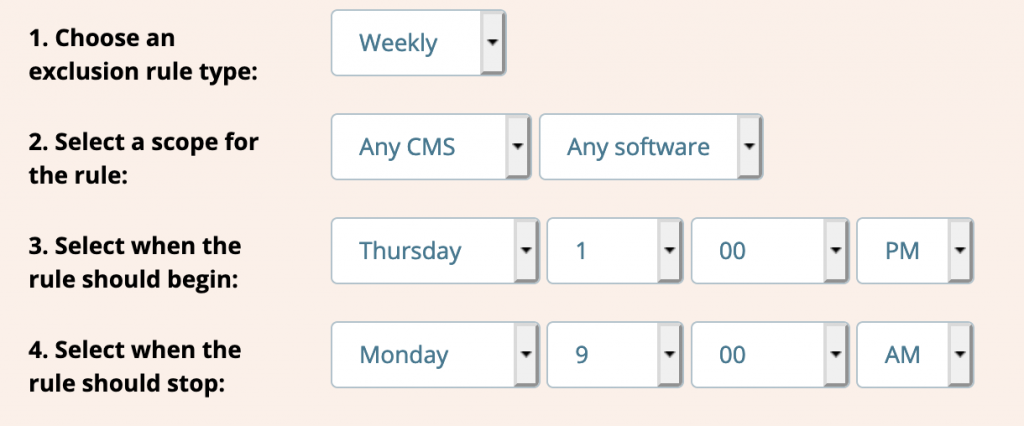 No updates during your vacation
July and August is normally when people are off on vacation. The Vacation updater shown below ensures that no updates will run during your holiday from July 1 to July 11.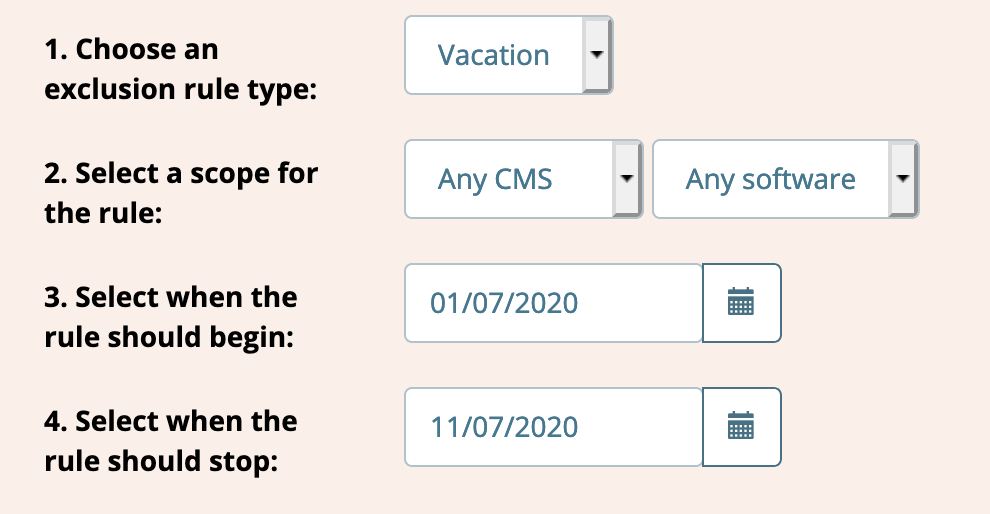 No updates during the holidays
Almost everyone wants to take time off at the end of the year. This Vacation rule below will give you peace of mind between December 23 this year and January 4 next year.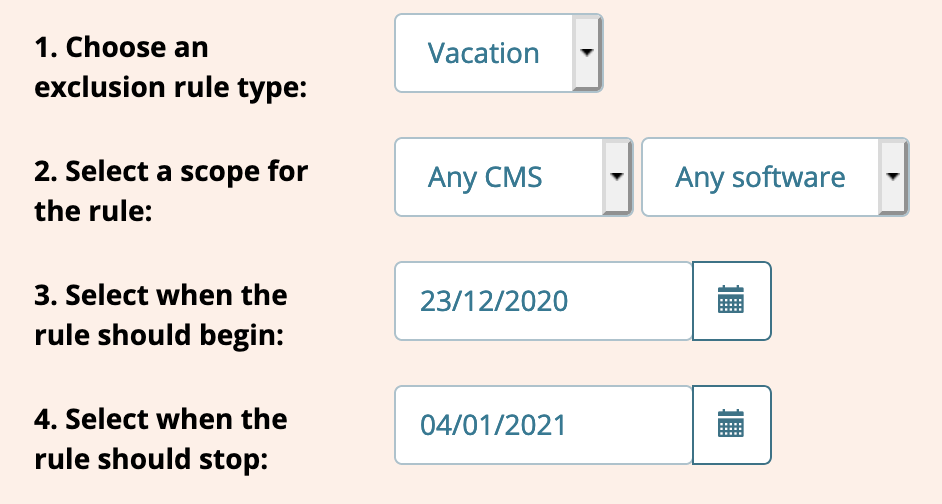 No updates around a major new version
Update problems often happen around major new software versions. With the rule shown below you can disable all WordPress updates immediately before or after the release of WordPress 5.5 on August 11: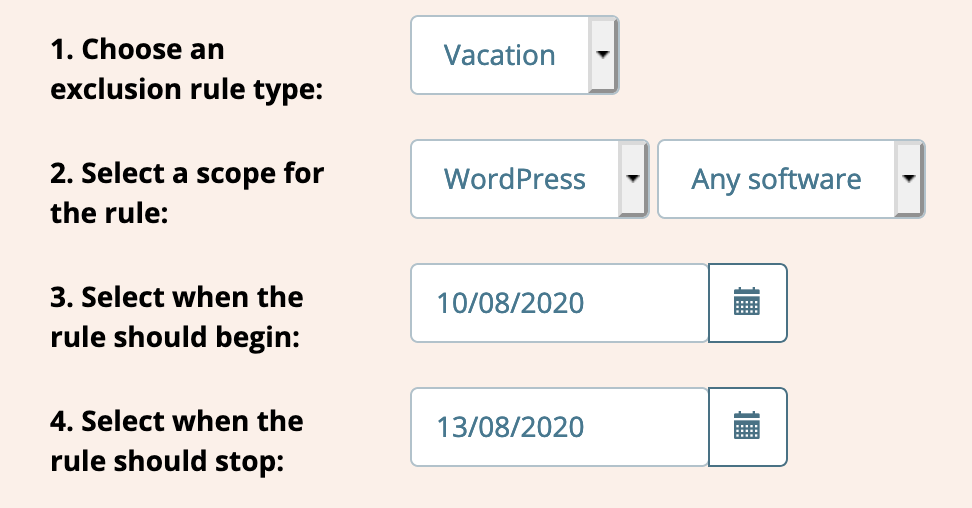 Auto-updates are a great thing, but so is downtime
Auto-updates have been working successfully with the WordPress core for seven years now and will soon extend to cover plugins and themes too.
Auto-updates for both WordPress and Joomla have been live on the Watchful platform since October 2019. We already run hundreds of successful auto-updates every day. You can trust Watchful to keep your sites safe and you can trust these new auto-updates too.
However, there's always a chance of things going wrong with any software update. And with this new Update Scheduler you get the benefit of auto-updates, plus the reassurance of downtime whenever you need it.
Update, 3-June-2021: If you need to rapidly disable automatic updates, be sure to check out the new Pause updates feature.